Serious runners only please
We are assembling a small group (20 maximum), of active or former military personnel or dedicated athletes to comprise a core team of runners committed to a 3-day 176 mile tribute run from Tallahassee to Jacksonville. The run has a specific timetable for each marker throughout each day. Runners need to be flexible, willing to run on any given day and when needed. RAIN OR SHINE.
Runners will run approx. 1 mile for every Florida fallen military hero who died while serving during the current war on terror, stopping to salute and give tribute by name at every Hero Marker, briefly greeting family, friends and comrades who may be waiting nearby. Stopping no longer than 90 seconds each.
Each runner must be physically capable of a consistent 8-9 minute mile for 2 mile legs. Core teams will regularly rotate over the 3-day period. We are not looking for quantity of runners but a solid team dedicated to the remembrance of those who gave their lives and their families. This route will be grueling at times because the trail winds through many hilly areas as we in Florida. A specific pace must be maintained in order to timely greet waiting families.
If you are interested in becoming a part of our core team or be a drop-in runner contact us at, Florida@RunfortheFallen.org.
Meet This Year's FLORIDA
CORE RUN TEAM
I am thankful to be joining the Run for the Fallen family as we bring honor and remembrance to Colorado's military fallen and their families.
I am originally from Cincinnati, Ohio and moved to Florida in 2018. I started participating in charity runs in 2012. It is a great way to combine my passion for running and give back to the community. I never served in military, but have many family members who have. The military and their families sacrifices so much for the freedoms we enjoy, especially those who have given the ultimate sacrifice. Remembering and honoring their sacrifice is very important. That is why I am very proud to be a part of this run. God Bless America.
I am a  licensed massage therapist, yoga instructor and avid runner. I was in the army (Military Intelligence) for 9 years. I served in Operation Desert Storm/Desert Shield among many peacetime exercises. My favorite duty station was Schofield Barracks, Hawaii. It was nice to serve our wonderful country and live in paradise at the same time. As a runner I have run many races from 5k to 50k. One of my most proud running moments was running the Marine Corp Marathon in Washington, DC. The "Blue Mile" where the fallen soldiers were being honored was such a surreal experience. When I was offered the opportunity to "Run For The Fallen" in Florida, I jumped at the chance. I cannot wait to be a part of this event!
Born at Cherry Point NC, Served USMC 07-13 Lives in Daytona Beach FL and has volunteered for team RWB since 2014 as Athletic Director and now  the veteran Engagement Director.  I have ran the Marine Corps Marathon for the past 4 years and participate in a lot of local 5ks. I had the honor of running the American Odyssey Relay with Team RWB where we finished first in the military division and placed 2nd overall. I like to push myself an take on new challenges and help people along the way.
Mark Mease II
USMC 0311
Team RWB Daytona Beach Veterans Engagement Director
I served in the U.S. Army for 21 years and achieved the rank of Chief Warrant Officer Four. I am a disabled veteran who has served three tours in Iraq and two tours in Afghanistan. After I was medically retired in May 2017, I moved to Black Mountain North Carolina where I focused on rehabilitation though mountain trail running. I have lived in Jacksonville Florida since October 2019 where I work as an Occupational Safety Manager. I have been a member of Team RWB since 2013 and have been running for over 25 years. Some of my running achievements include two marathons, the R2R2R in the Grand Canyon, and many hours and miles exploring the Smokey Mountains.
Annual Florida Run for the Fallen. Help us bring tribute to our State's Military Fallen Heroes and their Families. I run for those who can't. (sick, injured, deceased, etc) I run in their Honor. Perpetually Recognizing the Sacrifice of our Military Fallen Heroes and Their Families!
Hi there everyone! My name is Lauren aka Lala (whichever you prefer or is easiest to remember)and this will be my first Florida Run for the Fallen event which I am extremely excited to take part in!
I am Florida born and raised, homegrown from Tampa then translocated to Jacksonville at the age of 5. I started running in October of 2020 during the pandemic after NEVER being a fan my whole life. However, after the first mile, I was ready to compete.
It wasn't until a few months ago that a fellow PRS Running Club teammate Tony told me all about the event and introduced me to the team! I am so elated to have the chance to not only run with such great people but to also celebrate this amazing cause and honor those who have fought for our Freedom and Country.
I am not an active member of the Armed Forces, but I fully believe in giving back to my community and can think of no better way than to run for such a noble cause.
I am thankful to be joining the Run for the Fallen family as we bring honor and remembrance to Florida's military fallen and their families.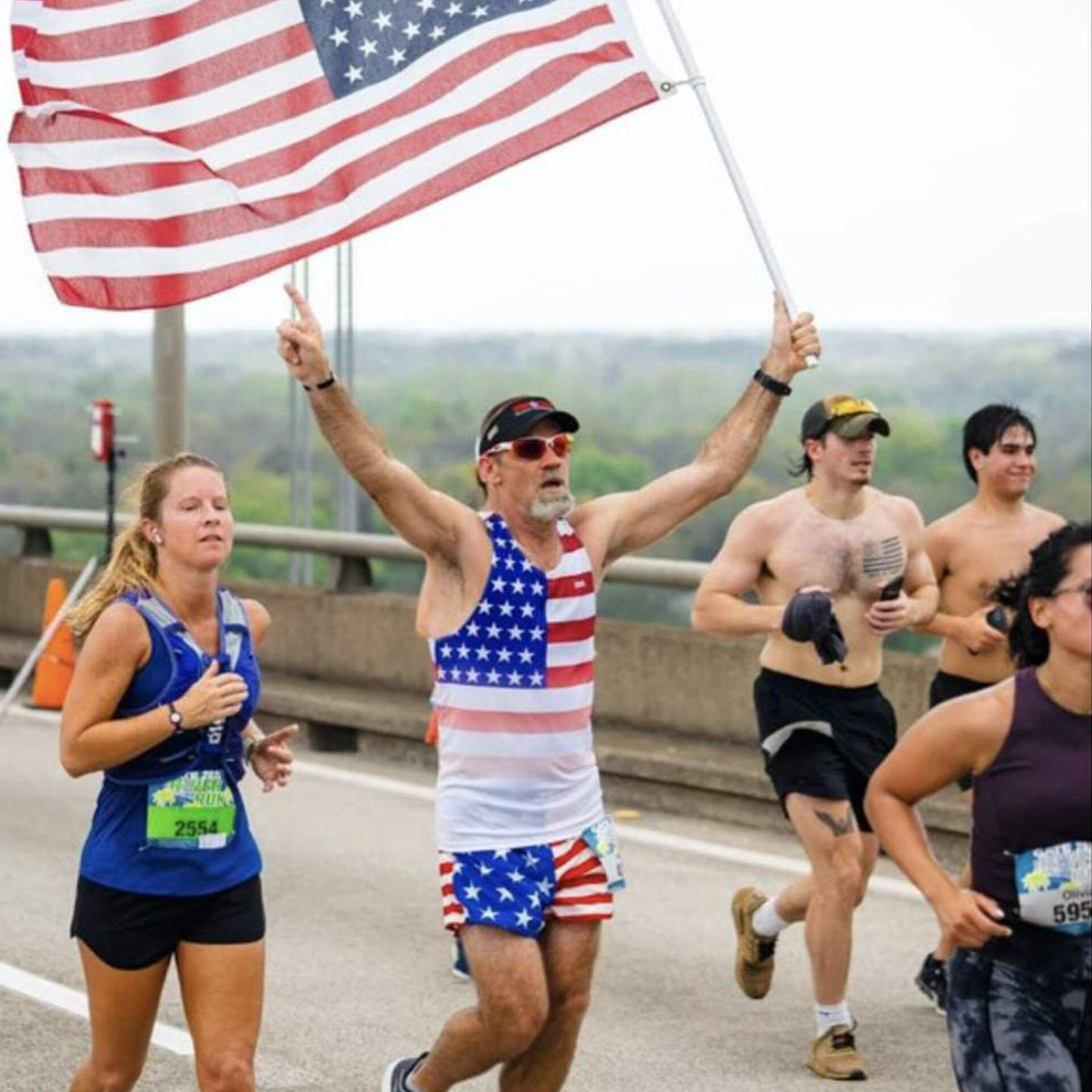 I ran to honor and remember Florida's Fallen in 2023 and I'm returning to continue to honor and remember. I'm a 21 year retired veteran of the US Army. I continue to serve my country working for the Department of Defense.
I love trail running as well as ultra marathons. My love for running and for honoring my fellow veterans have combined in this organization and I am thrilled to be but a small part of it.