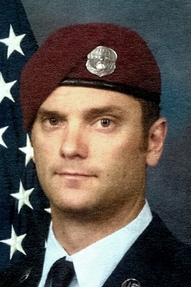 TECH. SGT. DANIEL L. ZERBE – U.S. Air Force
Hometown / City: York, PA
Date of Death: Saturday, August 6, 2011
Conflict: Operation Enduring Freedom (Afghanistan)
Branch: U.S. Air Force
Rank: Tech. Sgt.
Unit: 24th Special Tactics Squadron
Post / Base: Pope Field, NC
Birth: Jun. 27, 1983
Chambersburg
Franklin County
Pennsylvania, USA Death: Aug. 6, 2011
Wardak
Vardak, Afghanistan
Tech. Sgt. Daniel L. Zerbe, 28, of York, Pa., died Aug. 6 in Wardak province, Afghanistan, of wounds suffered when his CH-47 Chinook helicopter crashed. He was assigned to the 24th Special Tactics Squadron, Pope Field, N.C. Tech. Sgt. Zerbe was a 2001 graduate of Red Lion Area High School. He wasn't a star football player or an outstanding running back at Red Lion Area Senior High School, but he was committed to the team and worked to make himself a better player. He did the things he was asked to do and was a team player. Friends of Tech Sgt. Zerbe remembered him as driven but funny and easy to get along with. Zerbe, a 2001 graduate of Red Lion Area High School in central Pennsylvania, did not say much about his Air Force duties, former schoolmate Jean Martin told The York Dispatch. "He could make you laugh no matter what," said Martin, who dated him after high school. John Smeltzer, a friend of Zerbe's, recalled playing football together starting in junior high, as well as fishing, snowboarding and engaging in other outdoor pursuits. Martin said Zerbe wasn't the biggest player on the football or wrestling teams, but he worked hard to achieve his goals. When Smeltzer last spoke with him in June, they talked about life and the birth of Smeltzer's daughter. He has struggled to come to terms with his friend's death. "You wouldn't think this is going to come," he said. In addition to his parents, Terry and Susan (Noel) Zerbe, he is survived by a brother, Christopher Zerbe of York; a sister, Megan Zerbe of Virginia; and paternal grandparents, Douglas and Shirley Zerbe, and maternal grandparents, Leslie and Sheila Noel, all of York. He is also survived by aunts and uncles, Wendy and Victor Spangler of York, Julie and Allen Bell of Virginia, and Steven and Kelly Noel of California; cousins, Libby Spangler, Chloe Noel, and Phoebe Noel; and his girlfriend of six years, Amanda Harke of Raleigh, N.C.
Burial:
Arlington National Cemetery
Arlington
Arlington County
Virginia, USA
Plot: Section 60 Site 9940