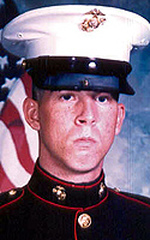 STAFF SGT. JOHN R. HOWARD – U.S. Marine Corps
Hometown / City: COVINGTON, VA COVINGTON (CITY)
Date of Death: Wednesday, August 11, 2004
Conflict: Operation Iraqi Freedom (Iraq)
Branch: U.S. Marine Corps
Rank: Staff Sgt.
Unit: HMH-465, MAG-16, 3D MAW, MCAS MIRAMAR, SAN DIEGO, CA
Birth: Feb. 5, 1978
Covington (Covington City County)
Covington City
Virginia, USA
Death: Aug. 12, 2004, Iraq
U.S. Marine Staff Sgt. John Ryan Howard was on a Marine logistics flight when the helicopter caught fire and went down, Was a crew chief of the squadron and that the crew was on a supply mission.
Howard was assigned to Marine Heavy Helicopter Squadron 465, which is reinforcing Marine Medium Helicopter Squadron 166, the Aviation Combat Element of the 11th Marine Expeditionary Unit, according to a statement from Marine Corps Air Station Miramar in San Diego, where Howard was based.
Known to his family and friends in Covington as Ryan and to his wife as John, Howard graduated in 1996 from Alleghany High School, where he was on a wrestling team.
Joined the Marines just two days after his high school graduation.
After graduating from basic training, Howard attended school to qualify as a CH-53 crew chief and air crewman. He served at Marine Corps Air Station, Cherry Point, N.C.; and in Willow Grove, Pa.
In July 2000, Howard transferred to HMH-465. In January 2003, HMH-465 deployed to Iraq, but returned to San Diego that July.
In January, Howard was reassigned to the 11th Marine Expeditionary Unit. He returned to Iraq in June, this time to a forward operations base.
Howard's awards include the Air Medal with Strike/Flight Award, a Presidential Unit Citation, two Meritorious Unit Commendations, two Marine Corps Good Conduct Medals, a National Defense Service Medal and two Sea Service Deployment Ribbons.
A funeral with full military honors will be held for John Ryan Howard in Alleghany County, but his mother isn't sure when. He will be buried at Palestine Chapel
Burial:
Palestine Chapel
Hematite
Alleghany County
Virginia, USA