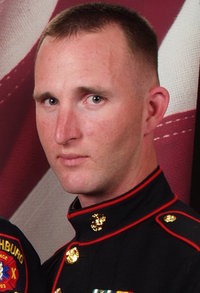 STAFF SGT. GREGORY T. COPES – U.S. Marine Corps
Hometown / City: Lynch Station, VA
Date of Death: Friday, August 17, 2012
Conflict: Operation Enduring Freedom (Afghanistan)
Branch: U.S. Marine Corps
Rank: Staff Sgt.
Unit: 3rd Marine Special Operations Battalion
Post / Base: Camp Lejeune, N.C.
Birth: Jun. 15, 1976
Death: Aug. 17, 2012
Farah, Afghanistan
Staff Sgt. Gregory T. Copes, 36, of Lynch Station, Va., died Aug. 17 while supporting combat operations in Farah province, Afghanistan. They were assigned to 3rd Marine Special Operations Battalion, Camp Lejeune, N.C. SSgt. Copes served as a United State Marine. He served with Marine Special Operations Command (MARSOC) based out of Camp Lejeune. He was a member of 3rd MSOB.
SSgt. Copes grew up in Lynch Station, VA and attended Hargrave Military Academy and graduated from Longwood University in Farmville, VA. Prior to joining the U.S. Marines, he worked at Carter Machining in Lynchburg, VA.
He is survived by his wife, Tia Moody Copes and his children, Connor, age 6, Emily, age 4, Peighton, age 1, and Logan, age 6 months; his father, Marion Copes, Jr. and his step-mother, Barbara Copes; two brothers, Earl Copes and wife Lynn of Altavista, VA and William Copes and wife Elizabeth of Lynch Station, VA; two sisters, Elizabeth Garcia and husband Ben of Colorado Springs, CO and Martha Moore and husband Lee of Clarksville, TN; a half-brother, Jeff Copes and wife Cynthia of Atlanta, GA; a half-sister, Kelly Westphal and husband Tom of Knoxville, TN; mother-in-law and father-in-law, Elaine and Jim Moody; and a number of nieces and nephews.
He was preceded in death by his mother, Audrey Elizabeth Copes in 2003.
A funeral service will be conducted at 5:30 p.m., Monday, August 27, 2012 at the Altavista Combined School gymnasium. Burial will follow at Mount Hermon United Methodist Church Cemetery with full military honors.
The family will receive friends from 2-5:00 p.m. Sunday at Finch & Finch Funeral and Cremation Service, Altavista.
Memorials: The family suggests that those wishing to make memorials consider the "Greg Copes Family Fund", c/o Navy Federal Credit Union or make checks payable to Tia M. Copes C/O Bank of the James, 1110 Main St., Altavista, VA 24517.
Family links:
Parents:
Audrey Elizabeth Copes (1939 – 2003) Burial:
Mount Hermon United Methodist Church Cemetery
Lynch Station
Campbell County
Virginia, USA