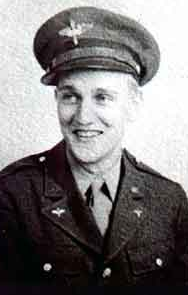 SSgt George L. Winkler
Date of Death: April 3, 1945
Conflict: WW II
Unit: 13th Air Force/FEAF/Jungle Air Force
Story by  Kathy Flanagan
Photos by  Leslie M.A. Kompara
As Mickey Beard laid her hand on Staff Sgt. George Lewis "Rip" Winkler's flag-covered casket, surrounded by family and friends, the 9-year-old little sister Rip called Pigtails seemed to fleetingly appear. It was a final moment, the welcome home and the last farewell. Brother and sister, father and son, family members who remember and family members who were too young to remember, gathered together to pay their respects.
The Old Post Chapel at Fort Myer, overlooking Arlington National Cemetery, with its rich history of laying to rest servicemen and women, opened its doors to honor a long-lost brother in arms.
The young servicemen carried Rip to the altar, stood silently at attention, while the echoes of the cadence of their steps and the order given, "bearers halt," filled the silent chapel.
Debi Bosko, Mickey's daughter, climbed the steps to the beautifully appointed altar and spoke of Rip. Bosko, born decades after his death, spoke to memories passed down from generation to generation.
"Rip was the big brother who looked out for his little brother and sister," Bosko said. "He was an ordinary man who became an extraordinary man at a time when the world held its breath." Bosko continued. "He will be forever young." She spoke softly.
Robert Boswell, Mickey's son-in-law, read the Old Testament Bible passage chosen by Rip's son, Lance — Ecclesiastes 3, "A time to give birth, a time to die. A time to plant and time to uproot what is planted. A time to kill and a time to heal." Lance then read the New Testament passage, John 15:12-13. "Love each other as I have loved you. Greater love has no one than this, that he lay down his life for his friends."
Chaplain Kelly O'Leary then spoke, welcoming Rip to the "Garden of Stone" where more than 300,000 servicemen and women are buried from wars past to this day. O'Leary spoke of the "sacred honor" afforded to these heroes reminding us, "They are all united. They earned this."
At the end of the service, when the mourners were standing, forming a wall of support for Mickey and Lance, Mickey gently placed her hand on Rip's casket. Not only was there a fleeting glance of the young girl Rip called Pigtails, but there was an almost palpable sense of Rip overlooking his family, those who are still alive, his only child — his son who is grandfather now — and the nieces he never met. Perhaps, if you believe, you could almost feel Rip lovingly watching over his family from his place at the table that heroes share.
Rip's journey to his final resting place in Section 60 in Arlington National Cemetery was filled with somber moments of honor and pride. The marching band played as the sound of their songs and footsteps led the funeral procession. Six white horses, joined together with their uniformed riders sitting tall, followed a lead horse and rider, pulling the flag-covered casket set upon on a wooden caisson. The early morning sunlight, the perfectly manicured green grass and the tall green trees along the route painted a picture of honor, dignity and respect.
School children and large tourist groups respectfully stood along the funeral route, some holding hands over their hearts, others saluting, affording them life-long memories of their visit as they witnessed the full military honors funeral procession.
Sgt. 1st Class Sean Richey served as the family's casualty assistance officer, attending Wednesday's viewing and Thursday's funeral. He stayed near, prepared to be of service to the family, to answer questions. Richey's relationship with Mickey Beard began once Rip's remains were positively identified in Hawaii six months ago. He said he has been with Mickey every step of the way, and that sentiment was made tangible as he offered his arm and escorted Mickey through the morning's events. "I'll be with Mickey to the very end of the process," he said before heading to the family's small reception at a nearby hotel following the funeral.
At the gravesite, the Fire Party honored Rip with a 21-gun salute that broke the calmness of the morn and left echoes throughout the cemetery. The lone bugler played Taps and the band played The Battle Hymn of the Republic. Chaplain O'Leary spoke kind words over the casket, wishing eternal peace. Then an Honor Guard ceremoniously folded the flag that covered Rip's casket and presented it to Lance. The folded flag that had accompanied Rip home on his flight from Hawaii to National Airport was presented to Mickey after it had been ceremoniously honored by touching the corners to the casket.
The tears shed at Rip's gravesite spoke to the man, the war he fought and the arduous journey he took that began on April 3, 1945 when Rip's B-25 plane crashed and he was killed in action on Cebu Island in the Philippines.
It was a perfect day on Thursday, May 5. The sun was shining and the weather was cool. It was a perfect day to honor a fallen hero who had spent six long decades journeying home.
http://journalpress.com/index.php/colonial-beach/beach-news/1353-journey-s-end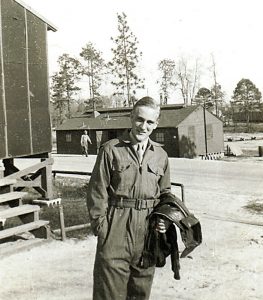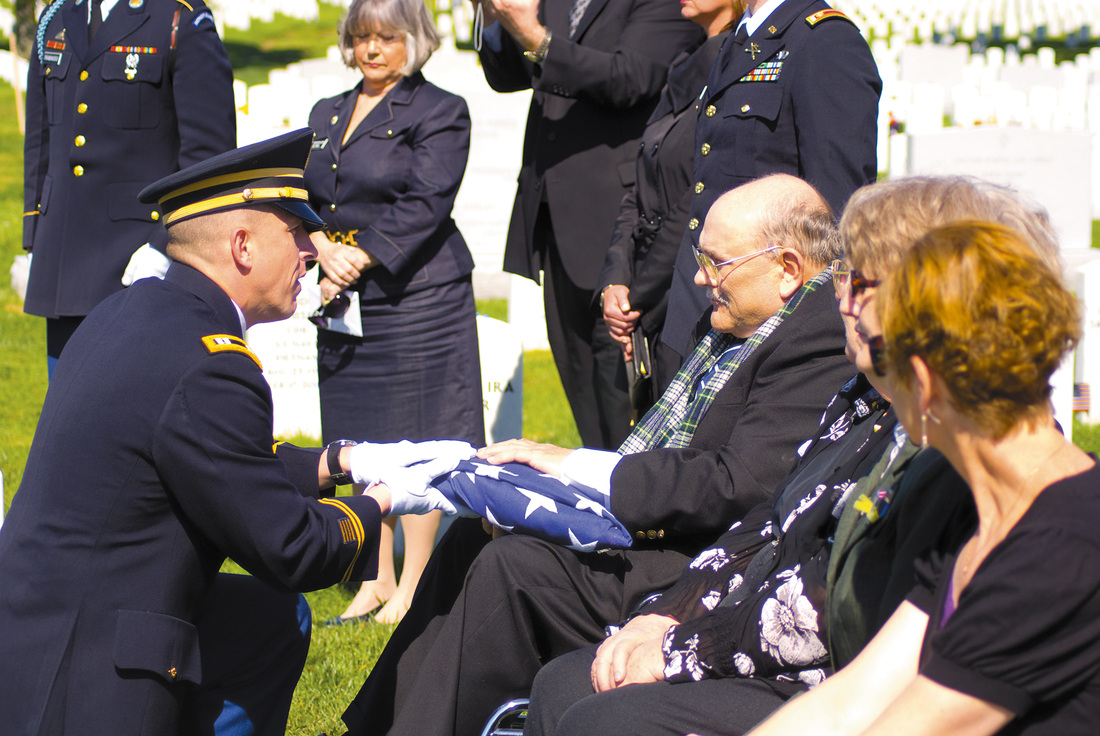 Chaplain Kelly O'Leary presents the flag that covered
Rip Winkler's coffin to his son, Lance.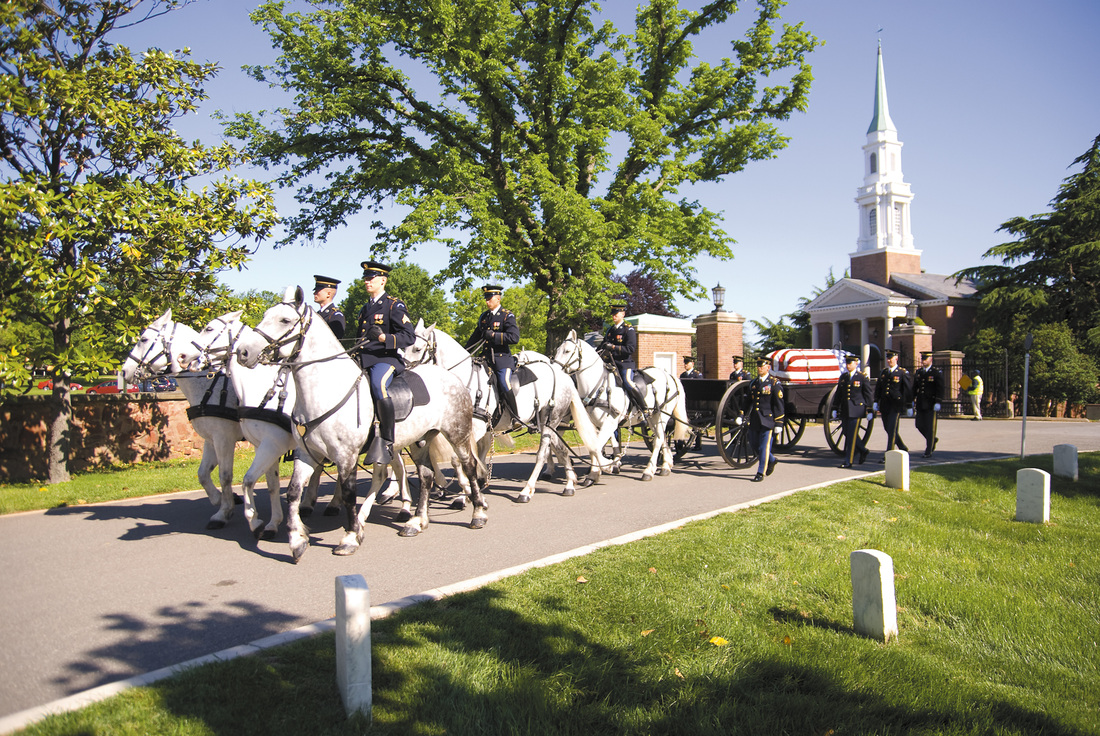 The horse-drawn caisson bearing Staff Sgt. Rip Winkler's casket enters
Arlington National Cemetery the morning of May 5, 2011, after a
9 a.m. service at Old Post Chapel at Fort Myer, Arlington. Winkler's
B-25 crashed in the jungles of the Phillipines in April 1945, and his sister,
Mickey Beard, spent decades searching for her brother's remains.
More than 60 years after his death Rip Winkler
was laid to rest with a full honors military funeral.