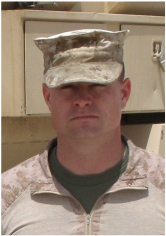 SSgt David H. Stewart – U.S. Marine Corps
Hometown / City: Stafford County, VA
Date of Death: June 20, 2014
Conflict: Afghanistan
Branch: U.S. Marine Corps
Rank: SSgt
Birth: May 13, 1980
Death: Jun. 20, 2014, Iraq
By Julie Zauzmer June 23, 2014  During his first deployment to Iraq, as a Marine Corps reservist, David Stewart called his wife, Kristine. He said he was thinking about becoming an active-duty Marine.
"I was like, 'Do it.' I could just tell how much he loved the Marine Corps," his wife said. She said his dedication never wavered through four more deployments. While on his fifth, Staff Sgt. David H. Stewart, 34, was killed in Afghanistan on Friday, along with two other Marines.
The son of a lieutenant colonel, Stewart was born in New Orleans and moved wherever his father was stationed, including two tours in Okinawa, his wife said. But he considered Stafford — where the family settled after Stewart's father retired and when Stewart was in middle school — his home.
There he met Kristine, when they were middle schoolers. They began dating as juniors in high school.
The two married and have a daughter, Mackenzie, 2, and son, Marshall, 14 months.
Marine Staff Sgt. David H. Stewart was the son of a lieutenant colonel. (AP) "He was the most joyous father you could ever know," Kristine Stewart said. "He had such a sparkle in his eyes when he looked at his beautiful children."
She said that she helped her husband decide to follow in his father's and brother's footsteps by joining the Marine Corps Forces Reserve. "It was all about serving something that was bigger than ourselves and doing the right thing. I fell in love with him when I was 16 years old because he was like that as a teen, and he just carried that on," she said.
Stewart deployed to Iraq from September 2004 to March 2005, from March to October 2006 and from September 2007 to April 2008. Then he went to Afghanistan from October 2012 to April 2013. He left for his last deployment this past April, according to the Defense Department.
He served in the 2nd Combat Engineer Battalion (Forward), Marine Expeditionary Brigade Afghanistan, Regional Command Southwest. His wife said that as a combat engineer, he worked on clearing roads during his last deployment.
The Defense Department said Stewart died as a result of a hostile incident in Helmand province. Lance Cpl. Brandon J. Garabrant, 19, of Peterborough, N.H., and Lance Cpl. Adam R. Wolff, 25, of Cedar Rapids, Iowa, also were killed. All three were based at Camp Lejeune in North Carolina.
Staff Sgt. David H. Stewart
Resided in Stafford County , Virginia
Staff Sgt. David H. Stewart USMC, 34, Stafford County died Friday, June 20, 2014 as a result of a hostile incident while supporting combat operations in the Helmand province, Afghanistan.
SSgt. Stewart joined the Marine Corps in 2000 as a reservist. In 2004 SSgt Stewart was mobilized in support of Operation Iraqi Freedom. It was at this time SSgt Stewart and his wife Krissy made the decision that he was meant to be an active duty Marine. He has remained on active duty since that time.
His operational deployments included three tours in support of Operation Iraqi Freedom from 2004-2005, 2006-2007 and 2008. As well as two tours in support of Operation Enduring Freedom from 2012-2013 and his last was in March of 2014.
His awards include the Purple Heart, Navy and Marine Corps Commendation Medal, Navy and Marine Corps Achievement Medal with Valor, Combat Action Ribbon, Marine Corps Good Conduct Medal, Selected Marine Corps Reserve Medal, National Defense Service Medal, Afghanistan Campaign Medal, Iraq Campaign Medal, Global War on Terrorism Expeditionary Medal, Global War on Terrorism Service Medal, Sea Service Deployment Ribbon, Marine Corps Drill Instructor Ribbon and Armed Forces Reserve Medal.
Survivors include his wife, Kristine Stewart; his two beautiful children, MacKenzie and Marshall; father, Lt. Col. Nelson H. Stewart (USMC Retired); and brother, Nelson E. Stewart.
A funeral service will be held at 1 p.m. Tuesday, July 1 at the Marine Memorial Chapel, Marine Corps Base Quantico. Burial will follow at 2:30 p.m. at Quantico National Cemetery.
NBC Washington News