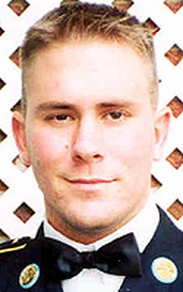 SSG ZACHARY R. WOBLER – U.S. Army
Hometown / City: OTTOWA, OH PUTNAM
Date of Death: Sunday, February 6, 2005
Conflict: Operation Iraqi Freedom (Iraq)
Branch: U.S. Army
Rank: Staff Sgt.
Unit: HHC, 2D BN, 325TH AIRBORNE INFANTRY REGIMENT, 82ND ABN. DIV., FORT BRAGG, NC
Birth: May 8, 1980
Paulding, Paulding County, Ohio, USA
Death: Feb. 6, 2005, Iraq
STAFF SERGEANT ZACHARY R. WOBLER, 24, of Fayetteville, N.C., formerly of Paulding and Ottawa, Ohio, died Sunday, Feb. 6, 2005, at Mosul, Iraq. Born May 9, 1980, in Paulding, Ohio, he was Staff Sergeant with 82nd Airborne 325 Regiment, 2nd Brigade Army Scout Leader, he was named 2002 82nd Airborne Trooper of the Year and an Army Corps Trooper of the Year runner up. Surviving are his wife, Corissa Wobler of Parma, Ohio; father, Tony (Marilyn) Wobler of Leipsic, Ohio; mother, Jeanette (Tim) Poston of Gate City, Va.; daughter, Trinity Wobler of Parma, Ohio; brother, Brandon, (Elicia) Wobler, of Payne, Ohio; grandparents, Roy and Helen Stoller of Haviland, Ohio and Lawrence and Peg Manguson of Payne, Ohio; and great-grandmother, Mary Petrozziello of Boston, Mass. Mass of Christian Burial is 10 a.m. Monday at St. Peter & Paul Catholic Church, Ottawa, Ohio. Visitation is from 2 to 9 p.m. Saturday at Den herder Funeral Home, Paulding, Ohio and from 2 to 8 p.m. Sunday at Love Funeral Home, Leipsic, Ohio. Burial at a later date in Arlington National Cemetery, Arlington, Va. Staff Sergeant Zachary Wobler and his family request in lieu of flowers, memorials to his daughter, Trinity Wobler's Education Fund.
Published in the Fort Wayne Newspapers on 2/11/2005.
Burial:
Arlington National Cemetery
Arlington
Arlington County
Virginia, USA