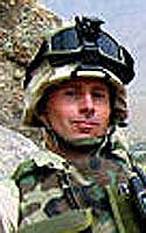 STAFF SGT. RUSSELL J. VERDUGO – U.S. Army
Hometown / City: PHOENIX, AZ MARICOPA
Date of Death: Monday, May 23, 2005
Conflict: Operation Iraqi Freedom (Iraq)
Branch: U.S. Army
Rank: Staff Sgt.
Unit: 767TH ORDNANCE COMPANY, (TF BAGHDAD), FORT MCNAIR, WASHINGTON, DC
Birth: Apr. 10, 1971
Scottsdale
Maricopa County
Arizona, USA
Death: Mar. 23, 2005
Baghdad, Iraq
Published: Wednesday, June 22, 2005 12:10 PM CDT in the Willcox Range News, Willcox, Arizona.
"Staff Sgt. Russell James Verdugo 1971-2005
Staff Sgt. Russell James Verdugo, 34, was killed when an improvised explosive device detonated as he was responding to a call to check out another device in Iraq, near Baghdad, on Monday, May 23, 2005.
Russell joined the Army in 1993 as he wanted to pursue a college education and study engineering.
He had served in Afghanistan for seven months in 2003/2004. Russell belonged to the 767th Ordnance Company, 63rd Ordnance Battalion, 62nd Ordnance Group of Fort McNair, Washington, D.C.
Army Staff Sgt. Verdugo was a member of the U.S. Army EOD Squad. He had been deployed to Iraq in January 2005 and was due back home in June of 2005.
Russell married Kari (Youngberg) on Nov. 27, 2004 at Faith Covenant Church in Manistee, Mich. She is currently a third-grade teacher in the Alexandria City Public Schools in Alexandria, Va.
Russell was an avid photographer, always trying to get the perfect shot in the best light and at just the right angle. He also loved working with computers and had been known to relax and enjoy paintball.
Russell was born in Scottsdale, on April 10, 1971, to Susan James and Rudolph Verdugo, Sr. He grew up in Phoenix and Hawaii.
He was preceded in death by his father in April of 2004.
He is survived by his wife, Kari; his mother Susan and stepfather Neil Stanley of Grand River, Iowa; his "brother" Eric (Lynn) Maestas of Chandler; his half-brothers Rudy (Shelly) Verdugo of Willcox, John (Mary) Verdugo of Rio Rancho, N.M.; and numerous aunts, uncles, nieces and nephews.
A graveside service for Russell was held Friday, June 3, at 11 a.m. at Arlington National Cemetery in Arlington, Va., with a memorial service that followed at 1 p.m. that same day at Community Covenant Church at 7018 Sydenstricker Rd., in Springfield, Va."
Burial:
Arlington National Cemetery
Arlington
Arlington County
Virginia, USA