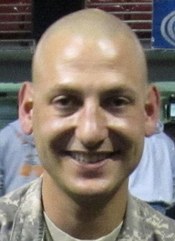 STAFF SGT. PATRICK D. HAMBURGER – U.S. Army
Hometown / City: Lincoln, NE
Date of Death: Saturday, August 6, 2011
Conflict: Operation Enduring Freedom (Afghanistan)
Branch: U.S. Army
Rank: Staff Sgt.
Unit: 2nd Battalion, 135th Aviation Regiment (General Support Aviation Battalion)
Post / Base: Grand Island, NE
Birth: May 25, 1981
Sioux City
Woodbury County
Iowa, USA
Death: Aug. 6, 2011
Wardak, Afghanistan
Staff Sgt. Patrick D. Hamburger, 30, of Lincoln, Neb. He was assigned to the 2nd Battalion, 135th Aviation Regiment (General Support Aviation Battalion), Grand Island, Neb. Sgt. Hamburger was a flight engineer who recently deployed to Afghanistan with his Grand Island-based Guard aviation unit. Sgt Hamburger had arrived at Forward Operating Base Shank only days before climbing aboard a helicopter with U.S. Navy SEALs to rush to the aid of a U.S. Army Ranger unit under heavy fire from insurgents. Patrick planned to propose to his girlfriend, but had a job to do first: a mission in Afghanistan. He joined the Nebraska National Guard when he was a senior at Lincoln Southeast High School, but this was his first deployment, his brother, Chris, said. "He didn't have to go, and he wanted to go because his group was getting deployed. He wanted to be there for them. That's him for you," Chris, said, adding that Patrick always looked out for his two younger brothers and friends. He was also the kind of guy who helped his girlfriend raise her 13-year-old daughter from another relationship, as well as the couple's own 2-year-old daughter, and planned to propose marriage when he got home. Patrick had been in Afghanistan less than two weeks and had arrived at Forward Operating Base Shank a few days before climbing aboard the helicopter to rush to the aid of an Army Ranger unit under fire from insurgents. "It doesn't come as a total surprise that he was trying to help people and that's how it all ended up happening." Pat is survived by his girls, Candie Reagan, Veronica Reagan and Payton Hamburger, of Grand Island; mother and stepfather, Joyce and DeLayne Peck of Lincoln, father and stepmother, Douglas and Shaune Hamburger of Knoxville, Tenn.; brothers, Michael Hamburger of New York, N.Y., and Christopher Hamburger of St. Louis, Mo.; grandparents, Willard and Jacque Hamburger of Omaha; stepsiblings, Jessica Francis, Jeremy Francis and Joshua Francis, all of Knoxville, Tenn.; and countless aunts, uncles, cousins, friends, and brothers in arms. He was preceded in death by his maternal grandparents, Edmond and Ruth George of Hampton. Posthumously promoted to Staff Sgt.
Burial:
Wyuka Cemetery
Lincoln
Lancaster County
Nebraska, USA
Plot: Sec-40 Lot-150 Sp-8