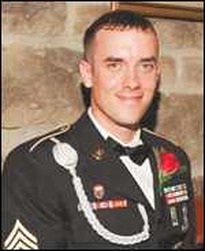 STAFF SGT. NATHANIEL J. NYREN – U.S. Army
Hometown / City: RESTON, VA FAIRFAX
Date of Death: Tuesday, December 28, 2004
Conflict: Operation Iraqi Freedom (Iraq)
Branch: U.S. Army
Rank: Staff Sgt.
Unit: COMPANY A, 1ST BN, 8TH CAV REG, 1ST CAVALRY DIVISION, FORT HOOD, TX
Birth: Mar. 5, 1973
Bristol
Hartford County
Connecticut, USA
Death: Dec. 28, 2004, Iraq
Staff Sgt. Nathaniel J. Nyren of Reston, Virgina was a 1991 graduate of South Lakes High School and attended Virginia Tech. He joined the United States Army in 1995 and served as a squad leader with the 1st Battalion, 8th Cavalry Regiment, 1st Cavalry Division, Ft. Hood, Texas. Nate was the beloved husband of Rebecca Smith Nyren, loving and devoted father of Brooke Nyren, son of Peter and Julie A. Nyren, and Susan Kimmel, brother of Jessamy Nyren, Natalie Nyren, and Peter G. Nyren, grandson of Robert E. Nyren, Elizabeth Schaut, Don and Frances French and Antonio and Concepcion Reyna. Nate died at age 31 in Baghdad, Iraq on December 28, 2004 when a civilian vehicle struck his military vehicle.
Army
1st Battalion
8th Cavalry Regiment
1st Cavalry Division
Fort Hood, Texas Burial:
Arlington National Cemetery
Arlington
Arlington County
Virginia, USA
Plot: Sec 60 Site 8090