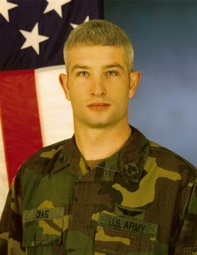 SGT. HEATHE N. CRAIG
Died: June 21, 2006.
Unit: 159th Air Ambulance Medical Company Wiesbaden, Germany
Birth: Jun. 11, 1978
Olean
Cattaraugus County
New York, USA
Death: Jun. 21, 2006, Afghanistan
Staff Sgt. Heathe N. Craig of Severn, Maryland grew up in Mechanicsville, Virginia near Richmond, and was one of the better wrestlers in his area while a student at Mechanicsville's Lee-Davis High School. In his junior year, Craig was 16-6 in the 119-pound class. A high school wrestling teammate remembered Heathe Craig as someone who was constantly ready with a helping hand. He had wanted to fly helicopters since he joined the Army and was close to qualifying as a pilot. Craig was married and lived in Germany. He and his wife had a son and a daughter. Survivors also include his mother and father, and a brother, and his grandfather. He was 28.
Army
159th Air Ambulance
Medical Company
Wiesbaden, Germany
Burial: Buried in Germany