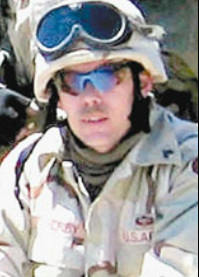 STAFF SGT. CRAIG W. CHERRY – U.S. Army
Hometown / City: WINCHESTER, VA WINCHESTER (CITY)
Date of Death: Saturday, August 7, 2004
Conflict: Operation Enduring Freedom (Afghanistan)
Branch: U.S. Army
Rank: Staff Sgt.
Unit: HHC, 3RD BATTALION, 116TH INFANTRY REGIMENT, WINCHESTER, VA 22601
Birth: Apr. 15, 1965
Death: Aug. 7, 2004
Ghazni, Afghanistan
Staff Sergeant Craig Cherry of Winchester, VA was killed in the line of duty in Afghanistan. He was an information technology contractor with the U.S. Patent Office in Washington, D.C. He was a member of the U.S. Army National Guard with the rank of staff sergeant and was a member of the American Legion, National Guard Association, and Rolling Thunder.
He married Donna Marie Peck on Jan. 3, 2004, in Winchester, VA.
In addition to his wife, his father of Windham, Maine, and his mother of Hastings, Mich., surviving are a son, Daniel Craig Cherry of Hastings; a daughter, Kaitlyn Jane Cherry of Hastings; an infant son, Charles Dale Cherry at home; and a brother, Dennis Cherry of Falls Church.
Inscription:
US ARMY
Note: AFGHANISTAN 
Burial:
Winchester National Cemetery
Winchester
Winchester City
Virginia, USA