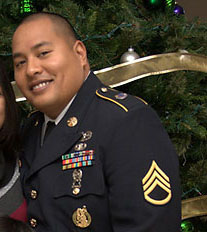 STAFF SGT. CHRISTOPHER F. CABACOY – U.S. Army
Hometown / City: Virginia Beach, VA
Date of Death: Monday, July 5, 2010
Conflict: Operation Enduring Freedom (Afghanistan)
Branch: U.S. Army
Rank: Staff Sgt.
Birth: Aug. 14, 1979
Norfolk
Virginia, USA
Death: Jul. 5, 2010
Kandahar, Afghanistan
Army Staff Sgt Cabacoy, 30, of Virginia Beach, Va. died July 5 in Kandahar, Afghanistan, of wounds suffered when insurgents attacked his vehicle with an improvised explosive device. He was assigned to 1st Squadron, 71st Armor Regiment, 1st Brigade Combat Team, 10th Mountain Division (Light Infantry), Fort Drum, N.Y.
Virginia Beach – Staff Sergeant Christopher F. Cabacoy, 30, died July 5, 2010 in Kandahar Afghanistan after a Improvised Explosive Device (IED) detonated near his vehicle. SSG Cabacoy was born Aug 14, 1979 in Norfolk, VA to Carmelita and Dennis Cabacoy. He attended Princess Anne High School and graduated from Tallwood High School. He later attended Old Dominion University for 2 years. SSG Cabacoy was a member of St. Gregory the Great Catholic Church of Virginia Beach. He was a 19D Cavalry Scout with the US Army. SSG Cabacoy was last stationed with the 1st Squadron, 71st Armor Regiment, 1st Brigade Combat Team, 10th Mountain Division, Fort Drum, NY. He was awarded the Bronze Star, Purple Heart, 3 Army Commendation Medals, 2 Army Achievement Medals, 3 Army Conduct Medals, National Defense Service Medal, Afghanistan Campaign Medal with Bronze Service Star, Global War on Terrorism Expeditionary Medal, Global War on Terrorism Service Medal, Non Commissioned Officers Professional Development Ribbon, Army Service Ribbon, 2 Overseas Service Ribbon, NATO Service Medal, Combat Action Badge, and US Army Recruiter Badge. Survivors include his parents of Virginia Beach, his wife, Tamara Cabacoy and son, Aidan Cabacoy both of Virginia Beach, a brother, Paolo James Cabacoy of Manassas, VA, and his grandfather, Pedro Cabacoy. SSG Cabacoy was preceded in death by his grandmothers, Ulrica Cabacoy and Magdalena Ambas and his grandfather, Francisco Ambas. Funeral Services will be Friday, July 16, 2010 at 11am at St. Gregory the Great Catholic Church. Interment to follow at Woodlawn Memorial Gardens. Family will receive friends Wednesday, July 14, 2010 and Thursday, July 15, 2010 from 5pm – 9pm at Woodlawn Funeral Home, 6329 E. Virginia Beach, Blvd.
Burial: Unknown