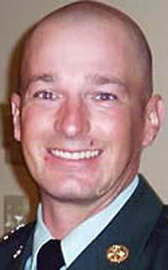 STAFF SGT. CHAD A. BARRETT – U.S. Army
Hometown / City: SALTVILLE, VA SMYTH
Date of Death: Saturday, February 2, 2008
Conflict: Operation Iraqi Freedom (Iraq)
Branch: U.S. Army
Rank: Staff Sgt.
Unit: COMPANY E, 64TH BRIGADE SUPPORT BATTALION, 3 BCT, FORT CARSON, CO
Birth: Dec. 5, 1972
Saltville
Smyth County
Virginia, USA
Death: Feb. 2, 2008, Iraq
Staff Sgt. Chad Barrett – JONESBOROUGH
Staff Sgt. Chad A. Barrett, 35, died Saturday, February 2, 2008, in Mosul, Iraq, while supporting operation Iraqi Freedom. He was assigned to 64th Brigade Support Battalion, 3rd Brigade Combat Team, 4th Infantry Division, Fort Carson, Colorado.
Staff Sgt. Barrett was born in Washington County and was a son of Linda Helton, Gray, and Ronnie and Donna Barrett, Gray, and step father Randy Hilbert, Jonesborough. He was preceded in death by his maternal grandparents, Guston and Mae Jenkins; and his paternal grandparents, George and Eppie Barrett.
He graduated from David Crockett High School in 1991. He was of the Baptist faith and a servant of his Lord Jesus Christ.
Surviving in addition to his parents; his wife, Michelle Barrett, Colorado Springs Colorado; 2 sons, Guston and Zachery, Saltville, VA; a brother, Gary Barrett and his wife, Kari, Las Vegas, Nevada; sister, Amber Bacon, Jonesborough; step sister Debi Cutlip, Telford; step brother, Josh Hilbert, Hendersonville, NC; and several cousins, nieces and nephews, aunts and uncles.
A memorial service to celebrate the life of Staff Sgt. Barrett will be held at 4:00 p.m. Sunday, February 10, 2008, at Dillow-Taylor Funeral Home Chapel in Jonesborough, TN, with Dr. Kenneth Gaskin and Mr. Fred Malone Sr. officiating. The family will receive friends from 2 to 4 p.m. Sunday prior to the memorial service.
Interment services will be conducted at Arlington National Cemetery Feb. 19, 2008 at 2 p.m. with full military honors.
In lieu of flowers memorial donations may be made to a trust fund for his two sons, c/o Linda Helton, P O Box 8251, Gray, TN 37615.
Burial:
Arlington National Cemetery
Arlington
Arlington County
Virginia, USA
Plot: Section 60, Site 8565