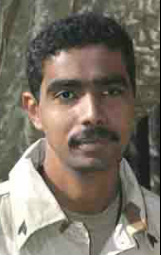 STAFF SGT. AYMAN A. TAHA – U.S. Army
Hometown / City: VIENNA, VA FAIRFAX
Date of Death: Friday, December 30, 2005
Conflict: Operation Iraqi Freedom (Iraq)
Branch: U.S. Army
Rank: Staff Sgt.
Unit: CO A, 3D BATTALION, 5TH SPECIAL FORCES GROUP, (CJSOFTF-AP) FORT CAMPBELL, KY
Birth: Jul. 2, 1974, Sudan
Death: Dec. 30, 2005, Iraq
Army Staff Sgt. Ayman A. Taha, 31, of Vienna, Va.; assigned to the 3rd Battalion, 5th Special Forces Group, Fort Campbell, Ky.; died Dec. 30 when he was preparing a munitions cache for demolition and the cache exploded in Balad, Iraq. Staff Sgt Taha attended elementary school in McLean and secondary school abroad. While his father worked for the World Bank he graduated from the University of California at Berkeley, earned a master's degree in economics, and was working towards his doctoral degree from the University of Massachusetts. Survived by is wife, Geraldine, his mother Amal, his sisters Rabah and Lubna, and his daughter, Sommer.
Burial:
Arlington National Cemetery
Arlington
Arlington County
Virginia, USA
Plot: Sec 60 Site 8305