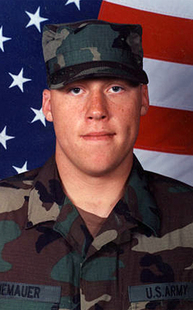 SPC KYLE M. HEMAUER – U.S. Army
Hometown / City: MANASSAS, VA MANASSAS (CITY)
Date of Death: Monday, May 23, 2005
Conflict: Operation Enduring Freedom (Afghanistan)
Branch: U.S. Army
Rank: SPC
Unit: CO A, 3D BN, 116TH INF, 1ST BDE, 29TH ID, (TF NORMANDY), MANASSAS, VA
Birth: Feb. 4, 1984
Fond du Lac
Fond du Lac County
Wisconsin, USA
Death: May 23, 2005
Zabol, Afghanistan
Specialist Kyle Matthew Hemauer, age 21 of Chilton died on May 23, 2005 in Zabul, Afghanistan while serving his country with the 3rd Battalion, 116th Infantry Regiment, 29th Infantry Division, Virginia Army National Guard, of Manassas, VA.
He was born February 4, 1984 in Fond du Lac, WI son of Andy and Anne (Schmitz) Hemauer. Kyle attended Chilton Catholic School and graduated from Chilton High School in 2002 where he was active in tennis and football. He was currently attending the Apprenticeship School at Newport News where he also played football.
Kyle was an active member of St. Mary's Catholic Church in Chilton, and the Army National Guard. This "gentle giant" was a humble man with a warm smile and a big heart who loved his family and was equally loved by them.
He is survived by his parents: Andy and Anne of Chilton; maternal grandfather: Alvin Schmitz of Johnsburg; and two brothers: Brad & Lucas Hemauer of Chilton. Kyle is further survived by aunts, uncles, cousins, other relatives and friends. He was preceded in death by his maternal grandmother: Martina Schmitz; paternal grandparents: Gilbert and Veronica Hemauer; and an infant brother: Nathan Hemauer.
A memorial fund has been established in the name of Specialist Kyle Matthew Hemauer. Kyle believed what he was doing, serving his country, was what was best for the continued safety and protection of the people he loved so dearly: his family, friends and fellow countrymen.
"Greater love has no one than this, that he lay down his life for his friends."
Kyle Matthew Hemauer is our hero and he will truly be missed.
Burial:
Saint Marys Cemetery Chilton
Chilton
Calumet County
Wisconsin, USA