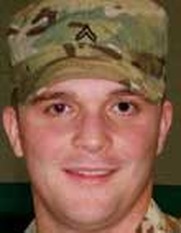 SGT TIMOTHY J. CONRAD – U.S. Army
Hometown / City: Roanoke, VA
Date of Death: Thursday, February 23, 2012
Conflict: Operation Enduring Freedom (Afghanistan)
Branch: U.S. Army
Rank: Cpl.
Unit: 385th Military Police Battalion, 16th Military Police Brigade (Airborne), XVIII Airborne Corps
Post / Base: Fort Stewart, GA
Birth: Mar. 6, 1989
Newport News
Virginia, USA
Death: Feb. 23, 2012
Nangarhar, Afghanistan
Sgt. Timothy John Conrad Jr., 22, of Roanoke, passed away on Friday, February 23, 2012, while serving his country in the United States Army. T.J. was born in Newport News, Va., on March 6, 1989. Surviving are his wife, Holly Conrad; son, Bentley Conrad; mother, Mikki Wray; stepfather, Cecil Wray; father, Tim Conrad; stepmother, Kim Conrad; sister, Amanda Meland and husband, Erik; sister, Alex Conrad; brother, Austin Wray; maternal grandmother, Barbara Robertson; paternal grandparents, George and Janice Conrad; nieces, Skylar Meland, Lexie Bush, and Jasmine Bush; and nephews, Aidan Meland, Hunter Meland, and Landon Meland.
Flowers are welcome or donations may be made to the Bentley Parker Conrad Memorial Fund at any Wells Fargo Bank location. They were assigned to the 385th Military Police Battalion, 16th Military Police Brigade (Airborne), XVIII Airborne Corps based in Fort Stewart, Ga.
A Funeral Service will be held at noon on Saturday, March 3, 2012, at Northside High School with Pastor Ken Nienke officiating. Interment will follow at Sherwood Memorial Park. The public may pay their respects to Sgt. Conrad on Friday, March 2, 2012, from 11 a.m. to 4 p.m. and the family will receive friends from 5 to 9 p.m. at Oakey's North Chapel. Arrangements by Oakey's North Chapel, Roanoke. Published in Roanoke Times on March 2, 2012.
Burial:
Sherwood Burial Park
Salem
Salem City
Virginia, USA