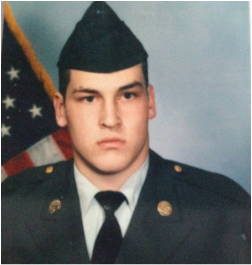 SGT. PHILLIP B. KEATTS – US Army.
Sgt Phillip B. Keatts – US Army.
Died: January 22, 2012.
Branch: US Army.
MARTINSBURG, W.VA. – Phillip Brian Keatts, 34, passed away Sunday, Jan. 22, 2012, at City Hospital in Martinsburg, W.Va.
Born in Newport News, Phillip was a civilian employee with the Department of Defense. He was a veteran of the USArmy and US Army Reserves, having served in Afghanistan and Iraq.
He leaves to cherish his memory his two beloved sons, Brian Joseph Keatts and Anthony Michael Keatts, as well as numerous other family members.
A funeral service will be held at 10 a.m. Monday, Jan. 30, 2012, at Immaculate Conception Catholic Church in Hampton with burial to follow at the Albert G. Horton, Jr., Memorial Veterans Cemetery in Suffolk. The family will receive friends prior to the service starting at 9:30.
The family suggests memorial contributions be made to a veterans organization of their choice, such as the Wounded Warrior Project (www.woundedwarriorproject.org). View and post condolences on our online guestbook at dailypress.com/guestbooks.