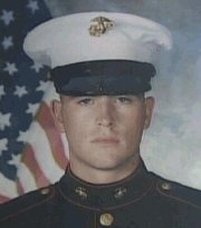 SGT JAYTON D. PATTERSON – U.S. Marine Corps
Hometown / City: SEDLEY, VA SOUTHAMPTON
Date of Death: Saturday, January 15, 2005
Conflict: Operation Iraqi Freedom (Iraq)
Branch: U.S. Marine Corps
Rank: SGTUnit:
H&S CO, 1ST BN, 2D MAR, (BLT 1/2, 24TH MEU), 2D MAR DIV, CAMP LEJEUNE, NC
Birth: 1978
Franklin City
Virginia, USA
Death: Jan. 15, 2005
Al Anbar, Iraq WAKEFIELD –
Sergeant (E-5) Jayton Daniel Patterson, USMC, 26, died Saturday, Jan. 15, 2005, while on duty in the Al Anbar Province, Iraq, in western side of Euphrates. Sgt. Patterson was due to return home in two weeks to his wife, Stephanie B. Patterson, and their 15-month-old daughter, Claire Michelle Patterson. Born in Franklin, Va., he was the son of Frank K. Patterson and Sharon Worrell Patterson of Sedley, Va. Sgt. Patterson loved his country and served his first four years with the U.S. Marines in Washington, D.C., as part of the White House security detail prior to being deployed with the 24th Marine Expeditionary Unit to Iraq in June 2004, hitting the ground in the Middle East in early July. Jayton was a graduate of Tidewater Academy in Wakefield and attended college prior to enlisting in the U.S. Marine Corps, was an avid fox hunter, fishing and sports enthusiast, and a member of Millfield Baptist Church in Ivor, Va. Sgt. Patterson is also survived by his brother, Hunter B. Patterson, and sister, Mattie M. Patterson, both of Sedley; paternal grandmother, Martha P. Patterson of Franklin; mother and father-in-law, Debbie and Rodney Bays of Wakefield; and a number of aunts, uncles and cousins. He was predeceased by his grandfather, Virgil O. Patterson, and his maternal grandparents, Fred and Val Worrell. Funeral services with full military honors will be held at 2 p.m. Monday, Jan. 24, in Millfield Baptist Church, 31389 Millfield Road, Ivor, Va., with the Rev. Mike Harrell officiating. Interment will follow in Rosemont Cemetery, Peachtree Road, Sedley, Va. The family will receive friends from 6 to 8 p.m. on Saturday evening, Jan. 22, at Purviance Funeral Home, Wakefield. The chapel will be open to the public from 9 a.m. to 8:30 p.m. each day prior to the service. Memorial donations may be made to the Claire Michelle Patterson Scholarship Fund, in care of Citizen's National Bank, Windsor, Va., or Bronco Federal Credit Union, Franklin, Va. Purviance Funeral Home, Wakefield, assisted the family with arrangements.
Published in the Daily Press on 1/22/2005. Burial:
Rosemont Cemetery
Sedley
Southampton County
Virginia, USA