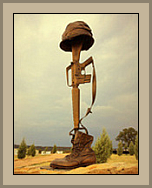 SGT JASON C. CARR – U.S. Army
Hometown / City: Halifax, VA
Date of Death: Wednesday, February 27, 1991
Conflict: Operation Desert Storm (Gulf War)
Branch: U.S. Army
Rank: SGT
Birth: Oct. 11, 1966
Death: Feb. 27, 1991
SGT Carr died when the Blackhawk helicopter he was on was hauling the crew of UH-1H #64-14273 back to port.  When the helicopter jumped back into Kuwait they were misoriented and shot down.
From the age of 12, Carr dreamed of serving in the military. Carr's memorial service was held at his high school; a plane scattered his ashes across the Blue Ridge Mountains.
——————————————
From the Richmond Times-Dispatch, March 5, 1991
MEMORIAL SERVICE SET FOR SGT. JASON CARR
Flags flew at half-staff yesterday at Halifax County Senior High School in memory of Army Sgt. Jason Carr, Class of '85.
A memorial service will be held at the school at 11 a.m. Saturday. Carr, 24, was killed in Operation Desert Storm Feb. 27.
The service will be open to the public, said Jimmy Carr, Jason's brother. The family learned of Jason's death Sunday.
"Because the country has been so supportive of the troops and the community has been so supportive, we felt it only appropriate that we allow everyone to be part of it," Carr said. "It's just a little bit from us to share with the community."
Jason Carr, a crew chief gunner and mechanic, was killed along with six others on a troop ferrying mission over Iraq, his brother said. The UH-60 Black Hawk helicopter Carr was flying in was shot down by enemy ground fire.
Officials at U.S. Department of the Army had no further information yesterday.
Carr, who was student council member at Halifax Senior and a member of Halifax Presbyterian Church, enlisted in the Army soon after graduation. He had been in the Persian Gulf since Jan. 9.
He was the son of Brenda and James Carr. A private family service is also planned after the body is returned. 
Burial:
Quantico National Cemetery
Quantico
Prince William County
Virginia, USA
Plot: MA, 27