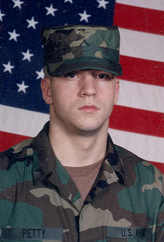 SGT. GRANT C. PETTY – Va. Army NG.
Hometown: Providence Forge, Va.
Date of Death: November 25, 2008
Branch: VA Army National Guard.
Unit: Virginia National Guard Co. A (FSC) 276 EN BN.
Birth: Aug. 23, 1986
Tennessee, USA
Death: Nov. 25, 2008
Richmond City
Virginia, USA
Grant Cole, 22, of Providence Forge, Va., passed away suddenly, Tuesday, November 25, 2008, from injuries he suffered in a motorcycle accident. Grant gave unconditional love as a Son, Brother, Husband, Father and Dedicated Soldier serving on Active Duty with the Virginia National Guard Co. A (FSC) 276 EN BN. In the last two years he served a tour of duty in Iraq and was training for deployment in Afghanistan. He is survived by his wife, Jenna Petty; his son, Cole Alexander Petty; his mother, Tisa Anderson; a sister, Brittany Harper; his grandparents, Sharon Hellis and Tom and Carolyn Petty; a large, loving extended family and many friends. Grant was a vibrant, positive, life loving man whose big heart and charm touched everyone he knew. His passing will leave a tremendous void in all of our lives. His family will receive friends Saturday, November 29, 2008 from 2 to 4 and 6 to 8 p.m. at the Nelsen Funeral Home, 4650 S. Laburnum Ave. Richmond, Va. 23231, where funeral services will be held Sunday, November 30, 2008 at 1: 30 p.m. in the chapel. Interment with military honors to follow at Washington Memorial Park.
Burial:
Washington Memorial Park & Mausoleums
Sandston
Henrico County
Virginia, USA