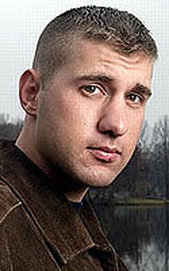 SGT DAVID A. RUHREN – U.S. Army
Hometown / City: DALE CITY, VA PRINCE WILLIAM
Date of Death: Tuesday, December 21, 2004
Conflict: Operation Iraqi Freedom (Iraq)
Branch: U.S. Army
Rank: SGT
Unit: C COMPANY, 276TH ENGINEER BATTALION, WEST POINT, VA
Birth: May 3, 1984
Death: Dec. 21, 2004, Iraq
May 3, 1984 – December 21, 2004 On December 21, 2004, Sgt. David A. Ruhren, age 20, was killed in a terrorist attack in Mosul, Iraq. David's military career began as a JROTC recruit at Garfield High School at the age of 17. David went on to enlist in the Virginia Army National Guard as a Combat Engineer on Oct. 26, 2001. David was assigned to A Company, 229th Engineer Battalion located in Fredericksburg, Virginia. He was mobilized with the 276th Engineer Battalion on Dec. 19, 2003 for their upcoming deployment to Operation Iraqi Freedom. David was preceded in death by his beloved grandmother Anna Ruhren in June 2000. David is survived by his mother, his best friend, Sonja Ruhren of Stafford; grandparents, Chris and Dave Merrifield of Illinois; his loving family members include his Uncles: Arnold Ruhren of Triangle, Scott Ruhren and his wife Michelle of Stafford, Joseph (Jo-Jo) Ruhren of Triangle, and Christopher Merrifield of Illinois; aunts include Helen Ruhren of Woodbridge, Tammy McClung and her husband Patrick of Woodbridge, Christa Phoel and her husband Karl of Fort Lauderdale, Fla., Peggy Rutkoskie and her husband Daniel of Woodbridge, Jodi Jones and her husband Brian of St. Petersburg, Fla., Melissa Netsnick and her husband Steve of Illinois; as well as numerous cousins and other family members. David is also survived by his dearest friends Jeremy Dallos, Spc. Joshua Hall, Laura Bagwell, Kimberly Evans, Spc. Michael Golding and his wife Becky, and Sara Meier. Friends and family will be received at Miller Funeral Home, 3200 Golansky Boulevard, Woodbridge, Virginia on Wednesday, Dec. 29, from 2 to 4 p.m. and 6 to 9 p.m. A Mass of Christian Burial and Memorial Service will be held at 12:30 p.m. on Thursday, Dec. 30, at St. Francis of Assisi Catholic Church, 18825 Fuller Heights Road, Triangle, Virginia. Interment will be held 2 p.m. at Quantico National Cemetery with Full Military Honors. In lieu of flowers, contributions can be made to the Garfield Senior High School, JROTC Program, 14000 Smoketown Road, Woodbridge, Virginia 22192. Sonja Ruhren requests any military personnel wishing to attend David's services attend in full dress uniform out of respect for her son. Sonja would like to thank you for keeping her and her family in prayer during this most difficult time and asks that you keep David's fellow soldiers, still serving overseas in your thoughts and prayers. Sign the guestbook at http://www.potomacnews.com or http://www.manassasjm.com.
Obituary, Potomac News, December 29, 2004.
Burial:
Quantico National Cemetery
Quantico
Prince William County
Virginia, USA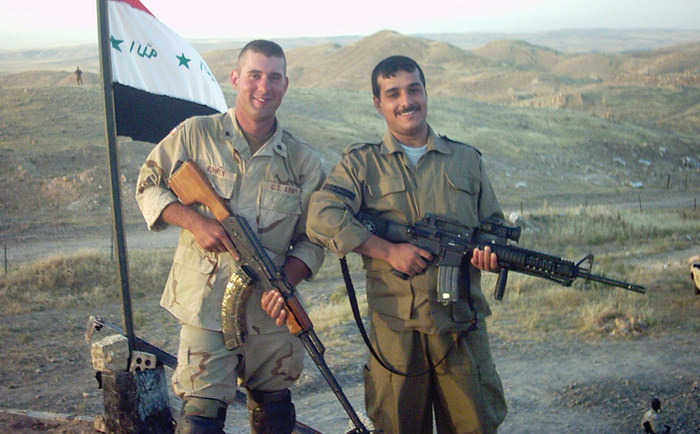 David was in my platoon in Iraq. In this photo he is with an Iraqi
soldier whose unit invited our platoon to dinner. Everyone who knew
David respected him and loved him. He made friends everywhere he
went, but he was a quite person. He understood people, and always
found good in them.