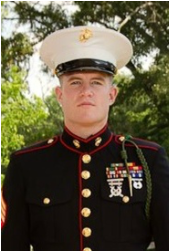 SGT. CHARLES C. STRONG
Hometown / City: Suffolk
Date of Death: September 15, 2014
United States Marine Corps
28, of Suffolk, Va.; assigned to 2nd Marine Special Operations Battalion, Marine Corps Forces Special Operations Command, Camp Lejeune, N.C.; died Sept. 15 in Herat Province, Afghanistan, in an insider attack.
http://www.covenantfuneralservice.com/obituaries/sergeant-charles-c-strong/
Born: 11/24/1985
Died: 9/15/2014
Resided in Holly Ridge, North Carolina
Sergeant Charles Calvin Strong, USMC, age 28, of Suffolk, died Monday, Sept. 15, 2014, in Herat Province, Afghanistan.
Sergeant Strong was born Nov. 24, 1985, and is survived by his wife, Taylor Adams Strong; his unborn daughter was born in December; his parents, Donald and Mary Strong; his maternal grandparents, Charles and Alice DeCosa; his brother, Jasen; his niece, Ryleigh; his beloved dog, Theodore Maximus; and other family and friends by whom he will be sorely missed and forever honored.
Sergeant Strong was the definition of a true patriot. He lived his life passionately, serving his country and fellow Americans both at home and abroad. In addition to his service to the Marine Corps, Sergeant Strong was a selfless volunteer to people in need.
At the time of his death, Sergeant Strong was a critical skills operator attached to the 2nd Marine Special Operations Battalion, out of Camp Lejeune, N.C. He had served in the Marine Corps since 2003. He was a dedicated, hardworking Marine on his fourth deployment. He had previously deployed twice to Iraq: In 2005, he was in Iraq as a motor transport operator, and, in 2006, he returned as the only vehicle recovery operator for his battalion and supporting units. In 2011, Sergeant Strong deployed to Afghanistan as a team leader and navigator for all logistical mounted patrols.
Upon returning from this deployment, he began training and applied for the United States Marine Corps Forces Special Operations Command (MARSOC) Assessment & Selection. His hard work and dedication, coupled with his passion to succeed, culminated with his selection to this elite unit in 2013. After selection, Sergeant Strong returned to his parent command and was assigned to Fox Company, 2nd MSOB, where he served as an Element Member (EM).
Sergeant Strong's personal decorations include the Navy and Marine Corps Achievement Medal (second award), the Marine Corps Good Conduct Medal (third award), and the Combat Action Ribbon.
Sergeant Strong absolutely loved spending time with his family, friends and his dog, Theodore, and he embraced life with passion. He was a motorcycle enthusiast and prior to his death was building his own custom chopper, a labor of love for which he collected each individual part and ensured each was "Made in the USA". He relished reloading his own ammunition, was an avid marksman, enjoyed target practice and shooting, and he always took meticulous care of his guns. Additionally, Sergeant Strong liked to work on cars, enjoyed yard work, exercise and the great outdoors, as well as making people laugh and engaging in the occasional debate.