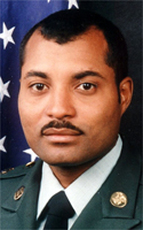 SGT. 1st CLASS JOSE ORLANDO CALDERON – OLMEDO
Age: 44
Hometown: Annandale, Va., USA
Occupation: Supply sergeant under the Army's deputy chief of staff for personnel, U.S. Army
Location: Ground, Pentagon
Birth: Aug. 27, 1957
Death: Sep. 11, 2001
Virginia, USA
U.S. Army Sgt. First Class Jose Calderon was from Puerto Rico. Burial:
Arlington National Cemetery
Arlington
Arlington County
Virginia, USA
Plot: Section 64 Site 4643
Sgt. 1st Class Jose Orlando Calderon, 44, of Annandale, viewed the military as a way to advance in life. The job had taken him all over the world, but this week he and his wife had planned to take the first step in planting deeper roots: They were to meet with a real estate agent to discuss buying a home, Gloria Calderon said.
Jose Orlando Calderon was born in Fajardo, Puerto Rico, and joined the Army 19 years ago after finishing school. While stationed in Bremen, Germany, 10 years ago, he met his wife, who was living in Germany with her sister. Three days after their marriage, Calderon was dispatched to the Persian Gulf conflict, where he served for seven months.
In 1992, Calderon was transferred to Newport News, Va. He spent most of 1996 in Korea, during which his family lived mostly in Gloria Calderon's native Guatemala. The family moved when Calderon was sent to Fort Campbell, Ky., and then to the Pentagon 19 months ago. He was a supply sergeant under the Army's deputy chief of staff for personnel, his wife said.
Calderon liked love songs and salsa music and spent most of his free time with his family.
"He was an exceptional father, a very good husband who has been dedicated to his family and to helping people," Gloria Calderon, 40, said through a translator. She said her husband had talked about retiring from active duty, though he hoped to continue as a civilian employee. "That was his life," she said.
In addition to his wife, Calderon is survived by a daughter, Vanessa, 10; a son, Jose Jr., 3, and in Puerto Rico by his parents, Saturnino Calderon and Petra Olmedo, and a sister.