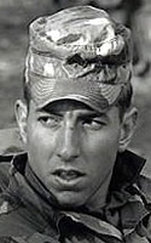 SGM ROBERT D. ODELL – U.S. Army
Hometown / City: APPLE VALLEY, CA SAN BERNARDINO
Date of Death: Tuesday, December 21, 2004
Conflict: Operation Iraqi Freedom (Iraq)
Branch: U.S. Army
Rank: SGM
Unit: HQ, INSCOM SUPPORT COMMAND, FORT BELVOIR, VA
Sisters share memories of Odell
Apple Valley High graduate was killed in Iraq mess tent bombing
By SONJA LEE
Courtesy of the Daily Press
A 1984 graduate of Apple Valley High School was among the 24 killed in last month's suicide bombing attack on a military mess tent in Mosul, the U.S. Army and his family said.
Sergeant Major Maj. Robert D. Odell, 38, was a member of the Army's Special Forces, serving with Intelligence and Security Command in Iraq. He was stationed at Fort Belvoir, Va. Odell was buried in Arlington National Cemetery on January 4, 2005.
"He strove for excellence in everything he did," said his sister, Jeannie Taylor, who lives in Apple Valley. "He was outstanding in everything."
As a member of the Army's elite Special Forces — "Green Berets" — Odell scored in the top 0.5 percent, his sister said. Many of the assignments Odell performed in his 19 years in the military were secret.
Odell is survived by his wife, Cynthia Odell, and three children, Connor, 5, Joshua, 3, and Olivia, 2, who live in Virginia. He is also survived by his father, Bob Odell; mother, Danice Bigelow; sisters Jeannie Taylor, Suzie Schonaur, Rhonda Whitham and Robin Odell; brother Michael Jones; and father-in-law and mother-in-law Oliver and Patricia Skok.
Odell joined the Army in September 1985 and later graduated from Ranger school before pursuing a career in Special Forces. In 1989, Odell earned the Special Forces Tab and the Green Beret.
He was twice awarded the Combat Infantryman's Badge and also earned the Bronze Star, the Defense Meritorious Service Medal and the Legion of Merit. He served in Panama and in the first Gulf War.
From the time Odell was a young boy, the Army was his calling, Taylor said. She recalled that a car once backed over Odell when he was 2-years-old while he was playing with army men.
Rhonda Whitman of Lompoc, another sister of Odell, remembers her older brother setting up an obstacle course and then having her time him.
Odell was known as "Odie" to the men he worked with. He was well liked by all, his family said.
Odell met the love of his life, Cynthia, in New Orleans. After dating and long phone conversations, they married in September 1994.
Odell loved to spend time with his family. Last year, Odell took his family to San Diego Wild Animal Park and Disneyland. Then, he dropped his kids off at Taylor's house while he and his wife visited Las Vegas.
A trust fund has been set up for the benefit of his children. Donations can be sent to the Robert Odell Trust at Sterling Bank, 20045 Katy Freeway, Katy, Texas 77450.