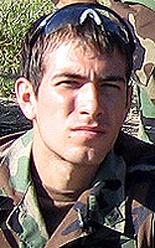 PETTY OFFICER 2nd CLASS DANNY P. DIETZ – U.S. Navy
Hometown / City: LITTLETON, CO ARAPAHOE
Date of Death: Tuesday, June 28, 2005
Conflict: Operation Enduring Freedom (Afghanistan)
Branch: U.S. Navy
Rank: Petty Officer 2nd Class
Unit: SDV TEAM TWO, VIRGINIA BEACH, VA
Birth: Jan. 26, 1980
Colorado, USA
Death: Jun. 28, 2005, Afghanistan
Navy SEAL from Colorado dies in Afghanistan
Associated Press
LITTLETON, Colo. — One of two commandos found dead in Afghanistan after disappearing last month grew up in Littleton and probably would not have wanted to die in any other way than trying to protect his country, his wife said.
The body of Petty Officer 2nd Class Danny P. Dietz, a SEAL who joined the Navy three months after graduating from Heritage High School in 1999, was recovered Monday, the military said Wednesday.
The body of Lt. Michael P. Murphy, 29, of Patchogue, N.Y., also was recovered Monday in Kunar province, where the men were conducting counterterrorism operations, the Navy said.
Dietz, 25, was assigned to SEAL Delivery Vehicle Team Two, based at Virginia Beach, Va. Murphy was assigned to SEAL Delivery Vehicle Team One, based at Pearl Harbor, Hawaii.
They were part of a four-member team that disappeared on June 28. A transport helicopter sent to rescue the four was shot down the day the team disappeared, killing all 16 U.S. servicemen aboard. It was the deadliest attack against the U.S. in Afghanistan and the largest loss of life ever for the elite force.
One member of the team was rescued but the fourth was still missing Thursday.
Dietz's wife, Maria L. Dietz, said in a statement that he "was not just my husband, but he was my other half, my friend, my role model and my hero."
Recalling when her husband deployed in April, she wrote, "The same day he left for Afghanistan, as tears rolled down my cheeks, he told me with sparkles in his eyes, 'All the training I have (undergone) for years is going to pay off with this trip, and I am going to do something special for this country and for my team."'
Heritage teachers remembered Dietz visiting in full uniform after becoming a SEAL, said Diane Leiker, a school spokeswoman. He played football his senior year and spent time lifting weights and swimming because he realized strength and swimming would be important in realizing his goal of joining the Navy and becoming a SEAL, she said.
Outside Dietz's parents' home in Littleton — where a yellow ribbon was wrapped around a tree — neighbors signed a card of condolence.
"God bless you and help you in this difficult time," one person wrote on the white card. "We are sorry. Words can't express," read another.
Died:
July 04, 2005 Burial:
Fort Logan National Cemetery
Denver
Denver County
Colorado, USA
Plot: SECTION S SITE 6537-D