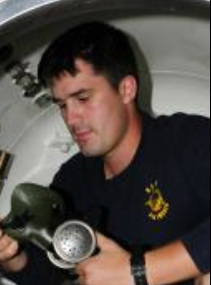 PETTY OFFICER 2nd CLASS RYAN HARRIS – US Navy
Hometown: Gladstone, MO
Date of Death: February 26, 2013
Branch: US Navy
Rank: PO2
Unit: Mobile Diving and Salvage Unit 2 at Joint Expeditionary Base Little Creek-Fort Story in Virginia Beach, Va.
VIRGINIA BEACH, Va. (WAVY) – The brother of a Navy diver, who died during training, spoke to 10 On Your Side about how the family is coping with the sudden death.
Navy Diver 2nd Class Ryan Harris and his teammate 1st Class James Reyher were members of Mobile Diving and Salvage Unit Two, based at J.E.B. Little Creek/Fort Story.
Harris' brother, Kyle Harris, says it was Ryan's dream to become a Navy diver.
"He really loved doing what he did with the Navy," said Harris, speaking by phone from his home in Missouri. "It was a passion of his that really came to be in high school."
Harris joined the Navy right after high school. He completed his recruit training in 2007 and became a Navy diver the following year. He was stationed in Connecticut before moving to Virginia Beach in June of 2011, where he lived with his wife and their two daughters, Sophia, 3, and Aubrey, 1.
"What really did bring him joy is his two little girls, Sophia and Aubrey," said Harris. "He really loved his wife and two daughters a lot and just thought the world of them."
Harris' brother and sister-in-law last spoke to him Monday, before he left for the training trip to Maryland. They never imagined that would be goodbye.
"He was telling us it was going to be a normal, routine thing he had done millions of times," said Kendra Harris.
The couple is not sure how well Harris knew James Reyher, the other diver who died, because Harris had just switched diving teams.
The Navy and the Army are investigating what led up to the deaths of Harris and his teammate Reyher. An Army spokesperson at the Maryland training facility could not elaborate on a cause.
"The condition of the Navy divers who perished is part of the ongoing investigation and it would be improper to make such speculations," said Kelly Luster, a spokesperson for the Aberdeen Proving Ground.
And as the Harris family waits for answers, they find comfort in memories.
"For me, just being able to wrestle with him every time we saw each other," said Kyle Harris. "And, his smile."