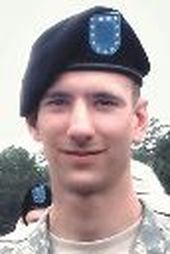 PFC. THOMAS R. WILSON – U.S. Army
Hometown / City: MORGANTOWN, WV MONONGALIA
Date of Death: Monday, August 27, 2007
Conflict: Operation Enduring Freedom (Afghanistan)
Branch: U.S. Army
Rank: Pfc.
Unit: HHC, 1ST BATTALION, 503D INFANTRY, 173D AIRBORNE BRIGADE, VICENZA, IT
Birth: Jun. 18, 1986
Shenandoah County
Virginia, USA
Death: Aug. 27, 2007, Afghanistan
Pfc. Thomas R. Wilson of Maurertown, Va., graduated from Central High in 2004, then attended West Virginia University before enlisting in the Army. In high school, he was a basketball player and ran the hurdles on the track team. He also was active in church and the Virginia Synod of the Evangelical Lutheran Church in America, where he helped organize the annual celebration gathering of young people from throughout the state. Thomas had a love of the valley and the natural beauty surrounding his home on Alonzaville Road in Maurertown. Thomas was dedicated to his country, sure of his presence in Afghanistan and proud to serve, a message he shared with his family in his emails and communications home. He joined the United Stated Army, after finishing two years at West Virginia University in Morgantown where his intended major was Wildlife & Fishery Management. Thomas was active in his church community being the first youth to serve on his church council at Mt. Zion Lutheran Church on Fairview Road. He was active in Sunday school classes and the youth group, always strong in his Faith. His laid back attitude made him likeable and his relaxed demeanor allowed him to get along with most everyone he met. Thomas' wonderful smile and charming disposition endeared him to many friends the world over. Thomas attended schools in Woodstock, graduating in 2004 from Central High School. As a youth, Thomas became involved with 4-H, participating in many events and activities such as showing sheep at the Shenandoah County Fair. He was active in the Central High School FFA Chapter which helped develop his interest in forestry and strengthen his love of the outdoors. He played basketball and ran track at CHS. As a member of the National Honor Society and a participant in Boy Scouts of America events, Thomas was active in many aspects of the community. Thomas' hobbies included his love of art and photography. He loved to camp, fish and hunt with his friends, and was often found hiking Little North Mountain or through the woods surrounding his home. He often helped his grandfather, Jim Hepner Sr., on the farm where he learned more about his natural environment and grew to love the life that existed there; his constant question to his mother while stationed overseas, "How is the wildlife?" He was preceded in death by his maternal grandmother, Vada Morris Hepner. Thomas was due home in just 10 days when he died of wounds suffered in an ambush in Afghanistan at age 21.
Army
1st Battalion
503rd Infantry Regiment (Airborne)
173rd Airborne Brigade Combat Team
Vicenza, Italy Burial:
Hepner Family Cemetery
Woodstock (Shenandoah County)
Shenandoah County
Virginia, USA