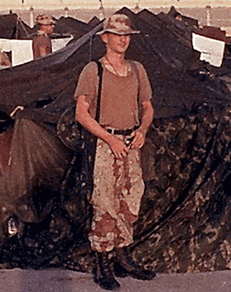 PFC. HANS CHRISTIAN R. AVEY – U.S. Army
Hometown / City: Falls Church, VA
Date of Death: Monday, January 7, 1991
Conflict: Operation Desert Shield (Gulf War)
Branch: U.S. Army
Rank: Pfc.
PFC Hans C. R. Avey, age 21, of Falls Church, Virginia, was a vehicle mechanic with the HQ Detachment of the 411th MP Company stationed at Logistics Base Alpha, Saudi Arabia, during Operation Desert Shield. He routinely volunteered to make the daily hot chow and mail run to the 411th platoons on duty along Main Supply Route Dodge (Pipeline Road), that ran parallel to the Saudi-Iraq border.
    On 7 January 1991 he was again making the run with a passenger, SSG Tina M. Donaldson also of the 411th, who was returning to her duty station. PFC Avey was in the process of passing a deuce-and-a-half when his HMMVW struck an oncoming deuce-and-a-half head on. PFC Avey died at the scene from massive trauma, SSG Donaldson, who was thrown from the vehicle on impact survived the crash with minimal injuries.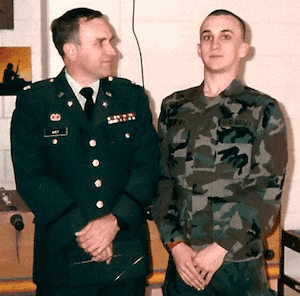 CPT (LTC Ret.) Richard W. Avey and his son PVT Hans C.R. Avey
at the end of basic training at Fort Dix, NJ in 1990.
Courtesy of the Avey family.