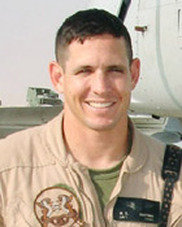 MAJ. MICHAEL D. MARTINO – U.S. Marine Corps
Hometown / City: FAIRFAX, VA FAIRFAX (CITY)
Date of Death: Wednesday, November 2, 2005
Conflict: Operation Iraqi Freedom (Iraq)
Branch: U.S. Marine Corps
Rank: Maj.
Unit: HMLA-369, MAG-39, 3D MAW, CAMP PENDLETON, CA
Birth: Jan. 31, 1973
Irvine
Orange County
California, USA
Death: Nov. 2, 2005, Iraq
32, of Fairfax, Virginia.Martino died when his AH-1W Super Cobra helicopter crashed while flying in support of security and stabilization operations near Ar Ramadi, Iraq. He was with the Marine Light-Attack Helicopter Squadron 369, Marine Aircraft Group 39, 3rd Marine Aircraft Wing, I Marine Expeditionary Force, Camp Pendleton, California. During Operation Iraqi Freedom, his unit was attached to 2nd Marine Aircraft Wing, II MEF (Forward). Died on November 2, 2005.
As a longtime Washington Redskins fan, Marine Captain Michael D. Martino admired former cornerback Darrell Green, a player who lacked size but had the tenacity to always make the play.
The Fairfax resident showed similar determination, whether on the high school football field or in studying for his economics degree, said his older brother, Robert M. Martino.
"We used to call him the Flea. He was always one of the smallest guys on the field, but he always made up for it with his guts," Robert Martino said last night.
Michael Martino displayed that courage and dedication most fully, his relatives said, in his career as a Marine Corps helicopter pilot.
During his first tour, as the Marines pushed to rid Fallujah of insurgents in April 2004, Martino served not in the air, but on the ground as a forward air controller. He called in airstrikes on enemy positions, and his actions during that campaign earned him a Navy Commendation Medal. His family hopes the honor will be raised to a Bronze Star.
MARTINO, MICHAEL, CAPT. USMC
On Wednesday, November 2, 2005, in Iraq. Loving son of Robert A. and Sybil Martino; brother of Robert M. and Lauri Martino; uncle of Devyn and Sydney Martino. Friends may call on Monday, November 14 at the Walker Chapel United Methodist Church, 4102 N. Glebe Rd., Arlington, VA from 4 p.m. until time of service at 6 p.m. Interment, with full military honors, 10 a.m., Tuesday, November 15 at Arlington National Cemetery. Burial:
Arlington National Cemetery
Arlington
Arlington County
Virginia, USA
Plot: SECTION 60 SITE 8294