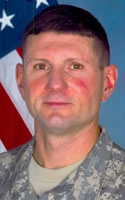 LTC JOSEPH FENTY, JR.
Hometown: Monroe, MI
Date of Death: May 5, 2006
Branch: US Army
Rank: LTC
Unit: 71st Cavalry Regiment, 10th Mountain Division
HM1-004
http://arlingtoncemetery.net/jjfenty.htm
LTC Joseph J. Fenty, Jr., was killed in Afghanistan May 5, 2006. At the time, our daughter, Lauren was 28 days old. She is now 9, and will be 10 on the date of the run. Fenty 41, of Fla.; assigned to the 71st Cavalry Regiment, 10th Mountain Division (Light Infantry), Fort Drum N.Y.; died May 5 when the CH-47 Chinook helicopter he was traveling on crashed during combat operations east of Abad, Afghanistan, in the Kunar province. Also killed were: Pfc. Brian M. Moquin Jr., Spc. David N. Timmons Jr., Spc. Justin L. O'Donohoe, Sgt. Jeffery S. Wiekamp, Sgt. John C. Griffith, Sgt. Bryan A. Brewster, Staff Sgt. Christopher T. Howick, Chief Warrant Officer 2 Christopher B. Donaldson and Chief Warrant Officer 3 Eric W. Totten.