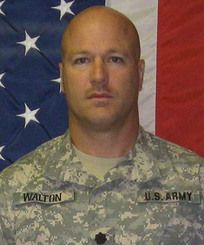 LT. COL. JAMES J. WALTON – U.S. Army
Hometown / City: ROCKVILLE, MD MONTGOMERY
Date of Death: Saturday, June 21, 2008
Conflict: Operation Enduring Freedom (Afghanistan)
Branch: U.S. Army
Rank: Lt. Col.
Unit: HHC, 1ST BRIGADE, 1ST INFANTRY DIVISION, FORT RILEY, KS
Birth: Mar. 31, 1967
Boston
Suffolk County
Massachusetts, USA
Death: Jun. 21, 2008
Kandahar, Afghanistan
Army Lt. Col. Walton was assigned to a Military Transition Team, 1st Brigade, 1st Infantry Division, Fort Riley, Kansas. He died of wounds sustained when his vehicle encountered an improvised explosive device and small-arms fire. At the age of 7 years, Jim and his family moved from Boston to Rockville, Maryland. While in fourth grade at Flower Valley Elementary School, he made the announcement and wrote a book about how he wanted to go to West Point. He graduated from St. John's College High School in Washington, D.C., where he was named Junior Reserve Officer Training Corps Cadet Colonel, the highest ranking cadet office, his senior year. In 1989, Jim fulfilled his dream of graduating from West Point and joined the Army. He met the love of his life, Sarah Moschler in 2003 and they were married on June 26, 2004 in Richmond, Virginia. Jim was a member of an Army Transition Team whose mission was to train Afghan soldiers – he enjoyed the job despite its front-line danger. During his 19 years in the military, he served in Germany, Honduras, Haiti, Korea, Costa Rica, Washington, D.C., with a second deployment in the wars in Iraq and Afghanistan. Jim was a high-energy guy who loved adventure. He started out climbing rocks and rappelling but then decided skydiving was his favorite. In 2003, he was one of almost 100 skydivers that broke the world record for canopy formations with a 70-way diamond formation. After retiring, he hoped to join the Golden Knights, an Army parachuting team based at Fort Bragg, North Carolina. Jim had a kind, caring side – apart from the tough, no nonsense, professional soldier. He had a soft spot for animals and made several trips to volunteer at an animal rescue center. Jim believed he was put on this earth for a special reason – to help others who couldn't help themselves. He said, "That's why I'm here and that's what I intend to do." He was a kind, unpretentious, humble man who never wanted to draw attention to himself.
Burial:
Arlington National Cemetery
Arlington
Arlington County
Virginia, USA