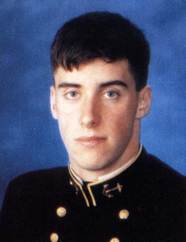 LT. MICHAEL M. MCGREEVY – U.S. Navy
Hometown / City: MILWAUKEE, WI MILWAUKEE
Date of Death: Tuesday, June 28, 2005
Conflict: Operation Enduring Freedom (Afghanistan)
Branch: U.S. Navy
Rank: Lt.
Unit: SEAL TEAM TEN, NORFOLK, VA
Birth: Apr. 24, 1975, USA
Death: Jun. 28, 2005, Afghanistan
Lt. Michael McGreevy, of Portville, New York wanted to take state Regents exam in German while in high school, only his school didn't offer the language. He bought German books and taught himself so well, he passed the exam. Michael would run more than 3 miles to school each morning, to be there by 6 a.m. so that he could get in a session of strength building before classes started. He grew from a thin-as-a-rail, somewhat awkward teen, to an absolute man. You felt compelled to stand and salute when he entered a room. He was the embodiment of American ideals. He was the kid who had it all. He was a great athlete, great student, nice personality, and polite. Michael graduated third in his class, then enrolled at the United States Naval Academy for a career serving his country. He was the Naval Academy class of 1997's secretary, not only was popular, but he also displayed scholarly aptitude. He did well in everything, at the same time, he was very, very humble about it and was always ready to help others. He finished first in his SEAL class. Michael had been in Afghanistan since early April 2005. He is survived by his wife, Laura, and daughter and his parents. Michael was killed when the Chinook helicopter he was flying in crashed while ferrying personnel to a battle against militants in eastern Afghanistan. He was 30.
Navy
SEAL Team Ten
Virginia Beach, Virginia Burial:
Arlington National Cemetery
Arlington
Arlington County
Virginia, USA
Plot: Sec 60 Site 8230