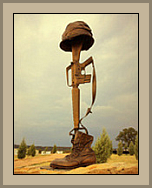 LT. COL. DAVID A. DOUTHIT – U.S. Army
Hometown / City: Herndon, VA
Date of Death: Friday, May 3, 1991
Conflict: Operation Desert Storm (Gulf War)
Branch: U.S. Army
Rank: Lt. Col.
Birth: unknown, USA
Death: 1991, Iraq
David Allen Douthit, 41, an Army lieutenant colonel who was assigned to the Pentagon and who was active in the First Baptist Church of Herndon, was killed May 3 in a traffic accident in Saudi Arabia, where he was on temporary duty.
A Pentagon spokesman said Col. Douthit, a resident of Herndon, Maj. Whitney Long, of Pearl River, La., and Maj. Hector Carmanza Jr., of Texas, were killed when their vehicle was struck head-on by a truck while they were driving east of Hafar al Batin in northeastern Saudi Arabia. The spokesman said the accident happened the day after Col. Douthit arrived in the Persian Gulf area and that further details were unavailable.
Note: United States Army. Killed in Operation Desert Storm. 
Burial:
Arlington National Cemetery
Arlington
Arlington County
Virginia, USA