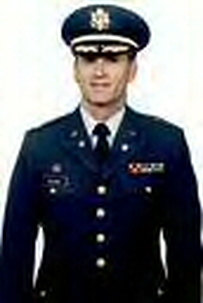 LT. COL. CANFIELD D. BOONE
Age: 54
Hometown: Clifton, Va., USA
Occupation: U.S. Army,
Location: Ground, 
Pentagon
Birth: 1948
Milan
Ripley County
Indiana, USA Death: Sep. 11, 2001
Arlington
Arlington County
Virginia, USA
United States Army Officer. A Lieutenant Colonel in the United States Army, he worked in the Army Personel Office for ten years. He was working in the Pentagon on September 11, 2001 when Islamic terrorists deliberately crashed American Airlines Flight 77 into it.
Burial:
Arlington National Cemetery
Arlington
Arlington County
Virginia, USA
Canfield D. Boone, 53, had recently been promoted to full colonel in the Army and worked in personnel in newly renovated offices at the Pentagon.
A native of Milan, Ind., "Bud" Boone graduated from Butler University, where he majored in history and political science and met his wife, Linda, 52, a second-grade teacher, at Virginia Run Elementary School. "Half my life is gone," she said. "Half my past. Half my future. It's very hard."
Their three children, Chris, 23, Andy, 21, and Jason, 18, "are very proud of him, that he served his country," their mother said.
Boone sold insurance for Prudential and was an Army National Guardsman for several years before going on active duty in 1986. About 10 years ago, the family moved to a two-story colonial in the Little Rocky Run subdivision in Fairfax County.
The Boones belong to Centreville Presbyterian Church.
A neighbor, Subra Bettadapur, described Boone as a "very nice" family man who walked the dog and worked on his lawn "just like all of us did."
Linda Boone and her sons remember his sense of humor, which has helped them these past days. She recalled: "At restaurants, waitresses [handing him the check] would say, 'I'll take that when you're ready.' He'd always say, 'How about a week from next Thursday?' "