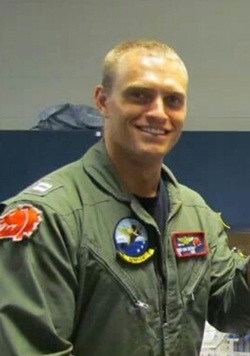 LIETUNENANT J. WESLEY VAN DORN
Hometown: Norfolk City, VA.
Date of Death: January 8, 2014.
Unit: Helicopter Mine Countermeasures Sqn 14, Norfolk Naval Station, VA
NORFOLK (AP) — The family of a Navy officer killed in the crash of a helicopter off the Virginia coast is remembering him as a great father and son.
The Navy released the statement Friday from the family of Lt. J. Wesley Van Dorn of Greensboro, N.C. Van Dorn died in a civilian hospital in Norfolk after the helicopter crashed Wednesday about 20 miles off Virginia Beach. Two survived the crash and two died, while the pilot remains missing at sea.
In the statement, Van Dorn's family said he was honored to serve his country. The family said Van Dorn returned from an overseas deployment as "an unexpected gift" just before Christmas.
The 29-year-old officer is survived by his wife and two young sons, among other family members.
Statement from Van Dorn Family:
"Lt. J. Wesley Van Dorn was a great father, a great son, and an example of strength and love to all who knew him. He was honored to be able serve his country. Wes returned to his family from deployment overseas as an unexpected gift just before Christmas, and he has now left us far too soon.
Those who knew Wes will remember his magnetic heart and the way he naturally drew people to him. His kindness and warmth extended from his family, friends and fellow servicemembers to strangers he encountered even briefly in everyday life. His strength, compassion and easy smile made those around him aspire to do good. His passion for the outdoors, and fishing in particular, was a joy to behold.
Throughout his life Wes was motivated by the example of his grandfather, James H. Scholtz, whom he resembled in appearance, in strong faith and in commitment to serving his country. His deep faith in Christ gave him the strength to serve, the courage to walk without stumbling and be unafraid. In his final moments he calmly thought of and acted for others — his crew, his loved ones.
His family expresses our deepest gratitude to the men and women of the United States Navy, the United States Coast Guard and the Virginia Beach Fire Department who selflessly participated in his rescue after the crash. We hope the families and friends of LT Sean Snyder and Petty Officer Brian Collins find solace in this time of sorrow."
Biographical information provided by the Van Dorn Family:
"Lt. J. Wesley Van Dorn, 29, of Greensboro, North Carolina, served proudly as a member of Helicopter Mine Countermeasures Squadron 14, based out of Naval Air Station Norfolk. He is survived by his wife Nicole Fontaine Van Dorn, 27, and sons Jaxton Wesley, 4, and Maddox Coursen, 14 months, as well as parents Mark and Susan Van Dorn, of Greensboro, sister Cara Van Dorn, brother Max Van Dorn, and grandparents Ruth and James Scholtz. He graduated from the United States Naval Academy (class of 2007) and Southeast Gilford High School in Greensboro (class of 2002)."