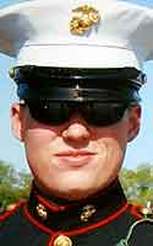 LCpl. STEVEN L. PHILLIPS – U.S. Marine Corps
Hometown / City: CHESAPEAKE, VA CHESAPEAKE (CITY)
Date of Death: Tuesday, February 7, 2006
Conflict: Operation Iraqi Freedom (Iraq)
Branch: U.S. Marine Corps
Rank: LCpl.
Unit: I CO, 3D BN, 6TH MAR (RCT-2), 2D MAR DIV, CAMP LEJEUNE, NC
Birth: Apr. 27, 1978
Waynesburg
Greene County
Pennsylvania, USA
Death: Feb. 7, 2006, Iraq
Lance Cpl. Steven L. Phillips of Chesapeake, Virginia was a 1996 graduate of Waynesburg Central High School in Pennsylvania and joined the Marines in 2003. He was such a caring, intelligent young man who kept in touch with several teachers and visited the school before he was deployed. His personality was what you remembered about Steven. He was always smiling. He had been in Iraq for about a year. While Steve was fighting in Afghanistan, his adoptive parents helped their son track down his birth parents. The Phillips's helped organize a family reunion for Christmas 2004, when he was home on leave, with his birth parents and all of his stepbrothers and half sisters. This has been very, very difficult for them to handle the loss when they'd just found him again. He grew up in Spraggs, Pa., and worked at Box USA while attending the Pennsylvania Institute of Technology, getting an information technology degree. On graduating, he transferred to Box USA's Chesapeake facility, where he designed display boxes for grocery stores. Deceased are his paternal grandparents, Ed and Marlene Phillips. He died in al Qaim, Iraq, of injuries sustained in a Humvee rollover at age 27.
Marines
3rd Battalion
6th Marine Regiment
2nd Marine Division
II Marine Expeditionary Force
Camp Lejeune, N.C. Burial:
Blacksville Cemetery
Blacksville
Greene County
Pennsylvania, USA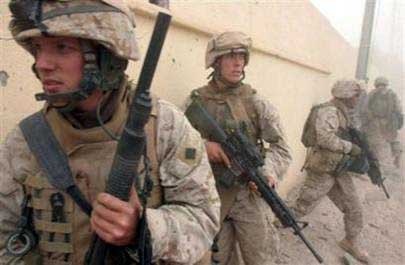 Waynesberg, Pa. native Lance Cpl. Steven L. Phillips, left,
followed by Albany, N.Y., native Lance Cpl. Paul J. Kolkhorst with Company I,
3rd Battalion, 6th Marine Regiment, Regimental Combat Team 2, in Nov. 15,
2005. (AP Photo/ U.S. Marine Corps, Sgt. Jerad W. Alexander)