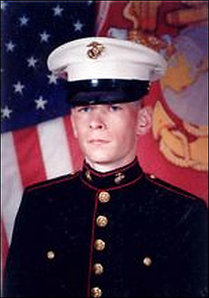 LCpl. ERIC W. HERZBERG – U.S. Marine Corps
Hometown / City: SEVERNA PARK, MD ANNE ARUNDEL
Date of Death: Saturday, October 21, 2006
Conflict: Operation Iraqi Freedom (Iraq)
Branch: U.S. Marine Corps
Rank: LCpl.
Unit: K CO, 3D BN, 2D MAR, (RCT-5, I MEF FWD), 2D MAR DIV, CAMP LEJEUNE, NC
Post / Base: Camp LeJeune
Birth: Jun. 7, 1986
Olympia
Thurston County
Washington, USA
Death: Oct. 21, 2006, Iraq
Marine Lance Cpl. Eric W. Herzberg, 20, of Severna Park, Md.; assigned to 3rd Battalion, 2nd Marine Regiment, 2nd Marine Division, II Marine Expeditionary Force, Camp Lejeune, N.C.; died Oct. 21 while conducting combat operations in Habbaniyah, Iraq. Surviving are his parents, Regina E. "Gina" Barnhurst of Severna Park and Eric F. Herzberg of Laurel; one sister, Katie M. Herzberg, and one brother, Matthew F. Herzberg, both of Severna Park; and his grandparents, Bernadette and William Barnhurst of Wallingford, Pa., Frederick Herzberg of Edmunds, Wash., and Dorothy Herzberg of St. John's, Newfoundland, Canada.
Burial:
Arlington National Cemetery
Arlington
Arlington County
Virginia, USA
Plot: Sec 60 Site 8431