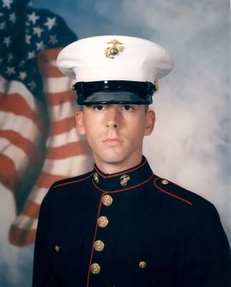 LCpl. DARRELL J. SCHUMANN – U.S. Marine Corps
Hometown / City: HAMPTON, VA HAMPTON (CITY)
Date of Death: Wednesday, January 26, 2005
Conflict: Operation Iraqi Freedom (Iraq)
Branch: U.S. Marine Corps
Rank: LCpl.
Unit: C CO, 1ST BN, 3D MAR, (31ST MEU, 1ST MAR DIV), 3D MAR DIV, KANEOHE BAY, HI
Birth: Aug. 8, 1979
Colorado Springs
El Paso County
Colorado, USA
Death: Jan. 26, 2005, Iraq
Lance Corporal Darrell J. Schumann, 25, of Hampton, Va., died Jan. 26, 2005, in the CH-53E helicopter crash near Ar Rutbah, Iraq. Lance Corporal Schumann was assigned to 1st Battalion, 3rd Marine Regiment, 3rd Marine Division, III Marine Expeditionary Force, Marine Corps Base Hawaii. Darrell was born at the Air Force Academy, Colorado, on Aug. 8, 1979. He traveled with his career Air Force parents and brother to Germany in 1983 where he visited France, Austria, and Switzerland while involved with Scouts. In 1987 Lance Corporal Schumann's family traveled to Elmendorf AFB, Alaska, where he enjoyed archery and fishing with his brother. In 1994 he traveled to Robins AFB, Georgia, and attended Houston County High School, graduating in 1997. It was there he met the love of his life, Nicole. Darrell worked in construction from 1997 until 1999, when he moved to Hampton, Va. There he attended Thomas Nelson Community College and worked at Colonial Williamsburg until he joined the United States Marine Corps in June of 2002. Lance Corporal Schumann completed basic training at Paris Island, South Carolina, followed by the School of Infantry, Camp Lejuene, North Carolina. He graduated in the top ten percent of his class and was assigned to the 1st Battalion, 3rd Marines in Kaneohe Bay, Hawaii. On March 28, 2003, he and Nicole were married on the beach at Waikiki. Darrell's deployments and achievements covered countries such as Thailand, Okinawa, Japan, Kuwait, and Iraq. He climbed Mt. Fuji, where he and his band of brothers participated in a rescue operation to aid another climbing party. In 2004, he was awarded a gold medal in a team pistol match during the Pacific Division competition. Lance Corporal Schumann's awards include the National Defense Service Medal, Distinguished Shooter's gold medal, Combat Action Ribbon, Global War On Terrorism Service Metal and the Sea Service Deployment Ribbon. Darrell leaves behind countless friends and family that include loving aunts, Michelle, Donna, Bonnie, and uncles, Dennis and Randy; his devoted and loving brother, Richmon and sister-in-law, April; loving parents-in-law, Theron and Fran; proud and loving parents, Mary and Richmon; and adoring and loving wife, Nicole. Lance Corporal Schumann will be remembered Thursday, Feb. 3, at the Bethel Temple Assembly of God at 3 p.m. with funeral services at Arlington National Cemetery Friday, Feb. 4, at 3 p.m. Those wishing to pay their respects may do so today between 9 a.m. and 5 p.m. at the Parklawn-Wood Funeral Home Chapel. Friends are also encouraged to visit www.mem.com to share words of comfort with the family. Arrangements are under the care of Parklawn-Wood Funeral Home, 2551 N. Armistead Ave., Hampton.
Published in the Daily Press from 2/1/2005 – 2/2/2005.
Burial:
Arlington National Cemetery
Arlington
Arlington County
Virginia, USA