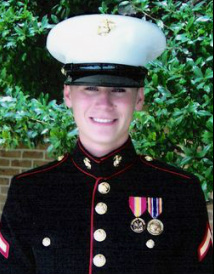 LCpl. DANIEL T. MORRIS – U.S. Marine Corps
Hometown / City: CRIMORA, VA
Date of Death: Wednesday, February 14, 2007
Conflict: Operation Iraqi Freedom (Iraq)
Branch: U.S. Marine Corps
Rank: LCpl.
Unit: G CO, 2D BN, 3D MAR, (RCT-2, II MEF FWD), 3D MAR DIV, KANEOHE BAY, HI
Birth: Sep. 22, 1987
Colorado Springs
El Paso County
Colorado, USA
Death: Feb. 14, 2007
Al Anbar, Iraq
Lance Cpl. Daniel T. Morris of Crimora, Va., was a 2005 graduate of Wilson Memorial High School where he was a member of the marching band. He was a bright young man with a 3.8 grade point average. He played trumpet in the band and repaired broken computers faster than his mother could call tech support. He loved XBox, Seinfeld and CSI. He departed for basic training in September 2005 and graduated from the infantry school at Camp Lejeune, N.C., in March 2006. He was scheduled to return to Rockbridge County in March 2007. When he left for Iraq, he gave his mother a $500 check and asked that she donate it to the Red Cross, his cousin remembered. That singular act of generosity stuck with her and inspired her to ship 160 sweatshirts and caps to Daniel's unit. Daniel's awards include the Purple Heart, National Defense Service Medal, Iraq Campaign Medal, Global War on Terrorism Service Medal, and Sea Service Deployment Ribbon. He was 19.
Marines
2nd Battalion,
3rd Marine Regiment,
3rd Marine Division,
III Marine Expeditionary Force,
Kaneohe Bay, Hawaii. Burial:
New Providence Presbyterian Church Cemetery
Raphine
Rockbridge County
Virginia, USA