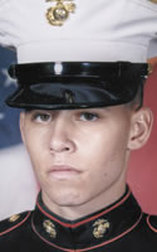 LCpl. COLIN J. WOLFE – U.S. Marine Corps
Hometown / City: MANASSAS, VA MANASSAS (CITY)
Date of Death: Wednesday, August 30, 2006
Conflict: Operation Iraqi Freedom (Iraq)
Branch: U.S. Marine Corps
Rank: LCpl.
Unit: WPNS CO, 3D BN, 2D MAR, (RCT-5, I MEF FWD), 2D MAR DIV, CAMP LEJEUNE, NC
Birth: Nov. 19, 1986, USA
Death: Aug. 30, 2006
Al Anbar, Iraq
There was the warrior side of Colin, the 14-year-old who saw what happened Sept. 11, 2001, and decided that he wanted to be a Marine, and the 19-year-old pickup driver who left for Iraq in July. And then there was the side that Colin didn't really talk about but that many in Manassas knew, the ballet dancer. The boy capable of pirouettes and graceful leaps who grew into a teenager able to guide his dance partners with poise. He was talented. At some level, he took pride in it. Colin was a typical teenager interested in soccer, football and girls but that there was also a strong pull in him toward the Marines, a pull that intensified after the Sept. 11 attacks. He was doing what he wanted to do, and he was believing in what he was doing. News of the death flowed from Osbourn High School, which Colin graduated from in 2005, and through the artistic community, in which his parents are major figures. Amy Wolfe is artistic director of the Manassas Dance Company, where her son grew up performing. Colin had been a mainstay in 'The Nutcracker' for many years. He played the boy Fritz, a soldier and a partygoer in the classic Christmas show. The young men are the girls' stability. They are there for the young ladies to hold on to, knowing that these young men won't let them fall and Colin was particularly strong. The girls were one of the main appeals of dance for him, although ballet was never Colin's first love but he could hold his own. He had been dancing since he was 3 years old and performed right up until he enlisted. He performed in "The Nutcracker. "Giselle" was his last performance, in May 2005. He was 18.
Marines
3rd Battalion,
2nd Marine Regiment,
2nd Marine Division,
II Marine Expeditionary Force,
Camp Lejeune, N.C. Burial:
Arlington National Cemetery
Arlington
Arlington County
Virginia, USA
Plot: Sec 60 Site 8423