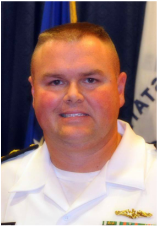 LCDR Richard Thomas Allen
Hometown / City: Stafford, Virginia
Date of Death: August 9, 2010
Branch: U.S.Navy
Rank: Lieutenant Commander
http://bluestarmothersva4.org/a-5-star-mothers-story/
The day my life changed…08/09/10 – A day that I will never forget.  My husband Rich and I woke up early that morning because we had to be at the MEPS station for our middle son, Garrett's final swearing in. Rich an LCDR, in the Navy wore his dress whites, on the day he was swearing in Garrett's final oath to become a United States Marine.
Three months earlier, we traveled to Richmond MEPS station, where Rich was swearing in our oldest son Dean into the Navy. It was such a beautiful day, and so sweet – we hugged our son and shipped him off.  Two months later, we found ourselves at Recruit Naval Training in Great Lakes, IL for Dean's graduation.  There were lots of smiles and tears – proud that our son was about to ship off to his "A" school in Groton, CT to become a Sonar Technician on fast attack submarines.
Fast forward to 08/09/10 again… We got to Baltimore, MD MEPS station, it was Rich, our daughter Emily (who was staying with us while her husband, Capt John Henderson was in Afghanistan), our niece Kati, our son Dayton, myself and Rich.   My son stood before Rich, and we watched with great pride our son, pledge his oath, to serve as he was being sworn into the Marine Corps by his father.  Shortly after that ceremony Garrett left on that bus bound for Parris Island, and we left to go back home.  Little did I know my world was about to change forever.
Once we were home and settled in, Rich decided that he wanted to go for a jog – I told him that it's too hot outside and that he shouldn't go.  He said I'll be fine baby and proceeded to go. It was probably about 20 minutes later that I started hearing sirens go down our street, so I grabbed my purse and keys and ran out the door shoeless – drove about half a mile from the house.  I saw the paramedics pushing Rich into the ambulance and I ran towards them – a Stafford County Sheriff stopped me and kept me from being at his side. He asked if there was anyone that could take me to the hospital and that we could meet the ambulance there – I told them my daughter could, so they went down to the house and picked Emily up and we began that LONG trip to the hospital. We both kept trying to convince each other that it was heat related. We called my sister in law to have her meet us there; she brought along one niece and left the other niece at my house with Dayton.
Once we all arrived – they put all four of us in the "bad news room" we beat the ambulance there. I kept looking out of the small window and I saw them running in and out of a room, then I saw a doctor coming towards the room, so I sat down, but once she entered – I stood right back up. She said "are you Mrs. Allen?" and I nodded my head yes.  "Ma'am (she said) we couldn't save him" and I was like.. no, no, no, no!!!!! – my daughter stood up and said, "there are many Richard Allen's, are you sure this is the one from Cropp Rd?" and she said yes, it was his heart.  In one second, my whole life changed.
We buried Rich in Quantico National Cemetery with full military honors exactly one week later, the day my 4 kids hugged one another in unison.
Emily's husband John came home from Afghanistan, Dean came home from "A" school, Garrett came home from boot camp at Parris Island, and Dayton and I were together – receiving help and love from so many family and friends.
Dean (our oldest Sailor) went back to his A school and completed his Submarine training.
Garrett (our Marine) went back to Parris Island two weeks after his dad passed away – when it came time for Garrett's graduation in November of 2010, our whole family went to support Garrett.
Fast forward to July 24th, 2013 ….. Emily, John, my dad, my mother in-law Sue and my father in law Jesse took our youngest son Dayton, to the MEPS station down in Richmond, VA, where my son in-law Captain John Henderson, swore Dayton into the Navy, he just recently graduated September 27th, 2013 – and I couldn't be more proud.
Having a "Gold Star" status is something I never wanted, but because I do, I will forever honor my husband and I will honor his 21 years of service to our great nation, that was cut short.  Rich loved the Navy, he also loved that all our boys desired to be in the military, and that our daughter who is now a college graduate, was married to John, a Marine that loves his country and serves to this day.
I am very proud to say that I am a quadruple Blue Star Mom, and I am proud of my husband and his legacy and I'm very proud to say, I am a Gold Star Wife.
Gold: Rich Allen
Blue: John Henderson
Blue: Dean Allen
Blue: Garrett Camacho
Blue: Dayton Allen