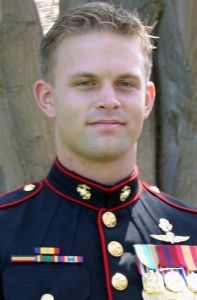 GUNNERY SGT. RYAN JESCHKE – U.S. Marine Corps
Hometown / City: Herndon, VA
Date of Death: Friday, August 10, 2012
Conflict: Operation Enduring Freedom (Afghanistan)
Branch: U.S. Marine Corps
Rank: Gunnery Sgt.
Unit: 1st Marine Special Operations Battalion
Post / Base: Camp Pendleton, Calif.
Birth: Dec. 5, 1980
Arlington
Arlington County
Virginia, USA
Death: Aug. 10, 2012
Helmand, Afghanistan
Gunnery Sgt. Ryan Jeschke, 31, of Herndon, Va., died Aug. 10 while conducting combat operations in Helmand province, Afghanistan. He was assigned to 1st Marine Special Operations Battalion, Camp Pendleton, Calif. Ryan was born to a family with deep ties to the Marine Corps. His direct forbears served in the Marine Corps in World Wars I, II and Korea. Ryan was a beautiful, sweet, intelligent child who excelled at sports and became involved in swimming and martial arts. At seventeen, he was the Black Belt welterweight state champion of Virginia in Tae Kwon Do. He was a charismatic leader who inspired two of his best High School friends to come with him to the Parris Island. Today, they still call him their hero. Ryan enlisted in the Marine Corps delayed entry program his senior year in high school and left for Recruit training at Marine Corps Recruit Depot, Parris Island on July 6, 1999. Following Recruit training he attended the School of Infantry at Camp Geiger, North Carolina. While attending the School of Infantry he was screened for Reconnaissance training, and upon graduation received orders to the Basic Reconnaissance Course in Coronado, California where he earned the MOS 0321, Reconnaissance Man. In February of 2000, following graduation from the Basic Reconnaissance Course, he received orders to 1st Reconnaissance Battalion. While at 1st Reconnaissance Battalion he completed two deployments, first in A Company with the 13th MEU in 2002, then in C Company during the invasion of Iraq in 2003. Following his return to the United States after this, his first Iraq tour, he was honorably discharged from the Marine Corps. In August of 2009, he reported in to 1st Marine Special Operations Battalion, Marine Special Operations Command where he served in Charlie Company, Marine Special Operations Team 8133 as an element on his first deployment to Afghanistan. Upon return from Afghanistan in April 2011, he took up the job as Team chief with Marine Special Operation Team 8133. Ryan continued to lead and mentor his Marines through training and their 2012 return to Afghanistan. On August 10, 2012 Ryan lost his life while conducting combat operations in Helmand province, Afghanistan. His Schools included Airborne, Marine Combatant Diver, Survive, Evade, Resist and Escape (SERE), Scout-Sniper Basic Course, Dynamic Assault, Breacher, and other Special Operations Forces related courses. His personal decorations included two Purple Hearts, the Navy and Marine Corps Achievement Medal with Combat V gold star in lieu of 2nd award and the Navy and Marine Good Conduct Medal. Although Ryan was a natural born warrior, he was also loving, gentle and funny. He was both proud and humble. He had the affection, respect and admiration of his leadership, the outstanding team that he led, as well as his many friends. To the various members of his family, he was a passionately loved and admired husband, son-in-law, son, grandson, brother, uncle, cousin and hero – the greatest Marine that any of them ever knew. Ryan is survived by his wife, his mother and father and his two sisters.
Burial:
Arlington National Cemetery
Arlington
Arlington County
Virginia, USA
Plot: Section 60 Site 10205