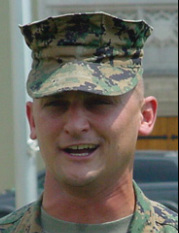 1st SGT. LUKE J. MERCARDANTE – U.S. Marine Corps
Hometown / City: ATHENS, GA CLARKE
Date of Death: Tuesday, April 15, 2008
Conflict: Operation Enduring Freedom (Afghanistan)
Branch: U.S. Marine Corps
Rank: 1st Sgt.
Unit: CLB-24, 24TH MEU, II MEF
Birth: May 10, 1972
San Diego County
California, USA
Death: Apr. 15, 2008
First Sgt. Luke Mercardante of Athens, Georgia was born on the west coast and moved east as a child, dividing time with family in Georgia and New York. He attended Athens Christian School and graduated from Oconee County High School in 1990. Mercardante attended Gainesville College for two years before enlisting in the Marines in 1992. He was attached to the 24th Marine Expeditionary Unit, a rapid-response force that is hunting down insurgents in the southern province of Kandahar, a former Taliban stronghold. He praised the military and what a hard job they were doing over there. He was proud of his country and was doing what God called on him to do. Luke had been in Afghanistan since February, his second overseas deployment. He served as gunnery sergeant at a detention center in Al Asad, Iraq, in 2006. He planned to marry when he returned to his home near Camp Lejeune in the fall of 2008. Born on the west coast, he moved east as a child, and split time with family in Georgia and New York. His decorations include five Navy and Marine Corps Commendation Medals, two Navy and Marine Corps Achievement Medals, five Good Conduct Medals, Iraq Campaign Medal, Military Outstanding Volunteer Service Medal, two National Defense Service Medals, Global War on Terrorism Service Medal, two Drill Instructor Ribbons, Meritorious Unit Commendation, Navy Meritorious Unit Commendation and Sea Service Deployment Ribbon. Luke died while conducting combat operations in Kandahar province, Afghanistan at age 35.
Marines
Combat Logistics Battalion 24
24th Marine Expeditionary Unit
II Marine Expeditionary Force
Camp Lejuene, N.C. Burial:
Evergreen Memorial Park
Athens
Clarke County
Georgia, USA