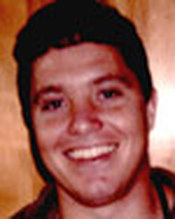 ENS (SEAL) JERRY O. POPE, III – U.S. Navy
Hometown / City: TALLAHASSEE, FL LEON
Date of Death: Thursday, October 17, 2002
Conflict: Operation Enduring Freedom (Afghanistan)
Branch: U.S. Navy
Rank: ENS
Unit: NAVAL MEDICAL CLINIC, QUANTICO, VA
Birth: Oct. 2, 1967
Death: Oct. 17, 2002
Ensign Pope was born on Oct. 2, 1967 in Tallahassee, Florida. He was a graduate of Leon High School. He graduated with honors from Campbell University, earned his bachelor's degree in health and science from the University of Nebraska.
While assigned to the Joint Special Operations in Medical Training at Fort Bragg, he was named Sailor of the Year.
He was the son of Jerry Orelle and Violet Lovett Pope.
Burial:
Arlington National Cemetery
Arlington
Arlington County
Virginia, USA
Plot: Sec: 19, Site: 791-F-25
Ensign Jerry "Buck" O. Pope II, a 35-year-old Navy SEAL, was killed on October 15, 2002, in a traffic accident in Yemen while serving his country in support of Operation Enduring Freedom. Pope was assigned to the Intelligence Department at the Ameri­can Embassy in Yemen and was participating in a training exercise with the Yemeni Special Forces. Family and friends celebrated his life on October 21, 2002, at the Na­val Amphibious Base, Little Creek Chapel in Norfolk, Virginia, and again on October 30 at the Marine Corps Base Quantico Chapel in Quantico, Virginia. He was buried at Arlington National Cemetery, Arlington, Virginia, on November 21, 2002, where family, friends, and teammates said their final farewells to their fallen hero.
http://www.health.mil/about_mhs/Honors_and_Remembers/details/Jerry_O_Pope.aspx