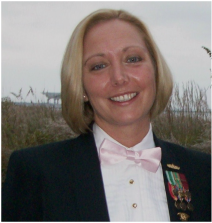 CWO3 KRISTINA L. SEITZINGER
Virginia Beach, VA
Date of Death: September 3, 2013
Branch: US Navy
Rank: Chief Warrant Officer 3rd Class
HM4-231
CWO3 Kristina L. Seitzinger
United State Navy
07/08/1971 – 09/-3/2013
Chief Warrant Officer 3 Kristina L. Seitzinger, a native of Rocky Point, New York, enlisted in the U. S. Navy in AUG 1989.  After completion of initial training, she continued on to OTA "A" School in Norfolk, VA.  Upon completion she reported to Ford Island, HI where she was advanced to Petty Officer 3rd Class in DEC 1991 and Petty Officer 2nd Class in DEC 1992.
In AUG 1993, Petty Officer Seitzinger reported to Dam Neck, VA and in JAN 1996 to DEC 1997 she was assigned to Joint Maritime Facility St. Mawgan UK.  Petty Officer Seitzinger returned to Dam Neck, VA in JAN 1998 and in DEC 1998 she was advanced to Petty Officer 1st Class.
In DEC 2000 she reported for Sea Duty at IUSS Sea Component East and served onboard USNS Bold, USNS Prevail, USNS Loyal, and USNS Able and USNS Impeccable and was advanced to Chief Petty Officer in SEP 2001 and achieved her Enlisted Surface Warfare Designation (SW) aboard in DEC 2002.
In APR 2003 Chief Seitzinger reported to Submarine Training Facility Norfolk, VA and in APR 2005 was advanced to Senior Chief Petty Officer.  In May 2007, Senior Chief Seitzinger reported to the USS Winston S. Churchill (DDG-81) where she was advanced to Chief Warrant Officer 2 and assigned to the USS Oscar Austin (DDG-79) as the Command & Control Officer and qualified Surface Warfare Officer (SWO).
Chief Warrant Officer 3 Seitzinger served a total of 23 years in the United States Navy, her personal awards include the Meritorious Service Medal (Posthumous), Navy Commendation Medal, Navy Achievement Medal (2 gold stars), Good Conduct Medal (4 bronze stars) and National Defense Service Medal (1 bronze star).
Kristina is laid to rest at Albert G Horton JR Memorial Cemetery, Suffolk, VA Section 2, Row 39, Site 38