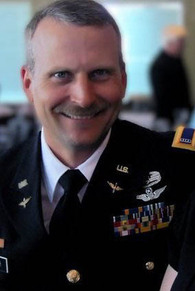 Chief Warrant Officer David R. Carter – U.S. Army
Hometown / City: Centennial, CO
Date of Death: Saturday, August 6, 2011
Conflict: Operation Enduring Freedom (Afghanistan)
Branch: U.S. Army
Rank: Chief Warrant Officer
Unit: 2nd Battalion, 135th Aviation Regiment (General Support Aviation Battalion)
Post / Base: Aurora, CO
Birth: Jul. 12, 1964
Mildenhall
Suffolk, England
Death: Aug. 6, 2011
Vardak, Afghanistan
Co-Pilot. Chief Warrant Officer 4, assigned to the 2nd Battalion, 135th Aviation Regiment, General Support Aviation Battalion, Aurora, Colo., one of 30 U.S. Military servicemen, 22 Navy personnel, including 15 SEALs, 3 Air Force troops, 5 Army air crew and military dog Bart (ST6 K-9), killed when their CH-47 Chinook, a US Military helicopter was shot down in eastern Afghanistan. CWO Carter, of Centennial, Colo., was a 24-year veteran of the Army, he was 47.
David R. Carter, Chief Warrant Officer 4, U.S. Army, Colorado National Guard, killed in action in Afghanistan. Husband of Laura; father of Kyle and Kaitlen; son of Elsie; brother of Bill, Mark & Paul. Funeral Services Friday, 10:00am. Eastern Hills Community Church, 25511 E. Smoky Hill Road, Aurora. Interment Service with full Honors at 2 pm, Grandview Cemetery, Fort Collins. Memorials to The David Carter Memorial Fund c/o any FirstBank. Please share condolences at HoranCares.com. Published in Denver Post on August 17, 2011.
CW4 David Rudolph Carter, 47, died Aug. 6, 2011, near Combat Outpost Sayed Abad, Afghanistan due to hostile enemy action.
He was born July 12, 1964, at the Royal Air Force Base in Mildenhall, England, to Vonley and Elsie Carter. He attended Hays High School in Hays, KS and graduated from Fort Hays State University in 1987 with a B.S. in Zoology.
Brought together by mutual friends, David and Laura (Larzalere) began a short courtship in 1985 and soon became engaged. They were married on December 27, 1986 and in 1987 moved to Ft. Rucker, AL, where Dave attended helicopter flight school at the U.S. Army Aviation Center of Excellence. After graduation from flight school, Dave and Laura moved to Fort Collins, CO where they started their family. It was in Fort Collins that their two children, Kyle (20) and Kaitlen (17), were born.
Afghanistan was Carter's second combat deployment with the 2-135th GSAB. His previous deployment was to Iraq in support of Operation Iraqi Freedom.
Carter came to Colorado from the Kansas Army National Guard in May 1988. His military decorations include an Army Service Ribbon, two National Defense Service Medals, Master Army Aviation Badge, Army Achievement Medal, Army Aviation Badge, Senior Army Aviation Badge, Global War on Terrorism Service Medal, Combat Action Badge, Iraqi Campaign Medal, two Air Medals, two Armed Forces Reserve Medals with "M" devices, Overseas Service Ribbon, six Army Component Achievement Medals, and several state decorations including the Long Service Medal, Foreign Deployment Service Medal, Active Service Medal, and an emergency service medal. He also received an emergency service medal from Louisiana.
Dave was a passionate outdoorsman who loved to hunt and fish. He was a dedicated dad who truly enjoyed the company of his children and instilled in them a passion for the outdoors. One of his greatest pleasures was going on hunting trips with his children and friends. In his private moments of reflection, Dave read the Bible and had a truly deep and abiding relationship with God. His membership at the Eastern Hills Community Church was important in his life and he was proud to serve on the "Sheep Dogs" Security Team there.
Survivors include his wife Laura Carter, son Kyle Carter, daughter Kaitlen Carter of Centennial, CO; mother Elsie Carter of Aurora, CO; brothers Bill Carter of Aurora, CO, Mark Carter of Stavanger, Norway, and half-brother Paul Carter of Fort Worth, TX.
Memorial contributions can be made to The David Carter Memorial Fund c/o First Bank of Colorado.
Burial:
Grandview Cemetery
Fort Collins
Larimer County
Colorado, USA