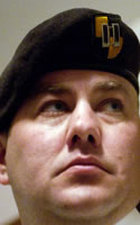 CAPT. SHANE R. MAHAFFEE – U.S. Army
Hometown / City: GURNEE, IL LAKE
Date of Death: Monday, May 15, 2006
Conflict: Operation Iraqi Freedom (Iraq)
Branch: U.S. Army
Rank: Capt.
Unit: 489TH CIVIL AFFAIRS BATTALION, KNOXVILLE, TN
Birth: Jun. 5, 1969, USA
Death: May 14, 2006, Germany
Army Capt. Shane R. Mahaffee, 36, of Alexandria, Va.; assigned to the 489th Civil Affairs Battalion, Army Reserve, Knoxville, Tenn.; died May 15 in Ludwigshafen, Germany, of injuries sustained May 5 when an improvised explosive device detonated near his Humvee during combat patrol operations in Hillah, Iraq. He was the son of Skip and Hannelore Mahaffee and the father of two children, and a wife, Jennifer Mahaffee. His adoptive father, Skip Mahaffee. Shane was a loving husband to his wife, Jennifer; a dear father to his children, Adelia Rose, 5 and Ethan Edward, 2; dear son to his parents, Steve and Betty Martin, and Hannelore and Skip Mahaffee; brother to Tiffany (Don) Willett, Timothy (Tracy) Martin, Brian (Leah) Martin and Amy (Erik) Mennecke; and grandson of Jean Martin and maternal grandson of Herbert Reichert. He was also loved and cherished by his in-laws, Donna (Stan) Tester, Patti (Dan) Schmeda, Eddie (Julie) Wiss, Tina (Scott) Musick, and he was also an uncle to a host of nieces and nephews.
Burial:
Ascension Catholic Cemetery
Libertyville
Lake County
Illinois, USA