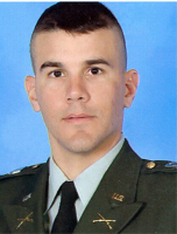 CAPT. MARK N. STUBENHOFER – U.S. Army
Hometown / City: SPRINGFIELD, VA FAIRFAX
Date of Death: Tuesday, December 7, 2004
Conflict: Operation Iraqi Freedom (Iraq)
Branch: U.S. Army
Rank: Capt.
Unit: HHC, 1ST BATTALION, 41ST INFANTRY, FORT RILEY, KS
Associated Press
SPRINGFIELD, Va. — An Army officer killed in Iraq was known for his attention to detail, his devotion to his children and his commitment to his country, his mother said Saturday.
"His life was his family, his children," Sallie Stubenhofer said of her son, Capt. Mark N. Stubenhofer. "Everything he did when not being a soldier was being with his children and his wife."
Stubenhofer, 30, was commander of Headquarters and Headquarters Company, 1st Battalion, 41st Infantry, 3rd Brigade, 1st Armored Division, based at Fort Riley, Kan. The native of Springfield was killed Tuesday by small-arms fire during a patrol in Baghdad, the Army said.
It was his second tour of duty in Iraq. He returned to the country over the summer after spending six months there in 2003.
Stubenhofer graduated from West Springfield High School in 1992. After graduating from Clemson University with a history degree in 1996, he went straight into the Army. He was first stationed in Alaska and had been at Fort Riley since 2001.
His mother, a part-time tutor in Fairfax County, said her son had received a Bronze Star for helping liberate five cities in Iraq.
Stubenhofer enjoyed country music and "he liked to talk," his mother said. "Mark was a born debater, and he could outsmart you. You could never win. It was always a family joke."
He could also challenge high-ranking officers. Sallie Stubenhofer said one of her son's superiors told her a story about a lengthy meeting that was being wrapped up. After he asked for final questions, Stubenhofer looked up and pointed to one overlooked detail. Her son, he told her, was always right.
"He said it drove him nuts," she said. "I said, 'Tell me about it. I raised him."'
Stubenhofer is survived by his wife, Patty, and three young children, including a baby girl born July 28.
"He never saw her," Sallie Stubenhofer said. "He actually managed to call from Iraq and get on the phone in the delivery room. We have a picture of Patty holding the phone to the baby's ear. He got there the best way he could."
Date of Interment: 12/17/2004
Buried at: Section 60 Site 8087
Arlington National Cemetery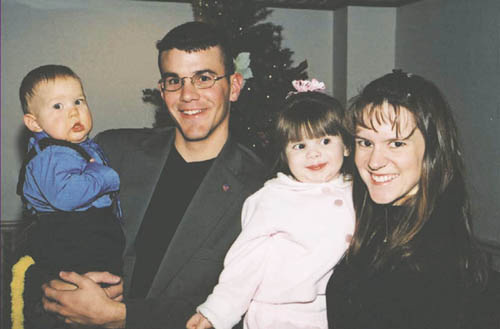 Mark Stubenhofer, second from left, a West Springfield grad,
was killed in action in Iraq in December 2004. He left behind his wife
Patty, a son Justin, daughter Lauren and another daughter Hope, born in July.