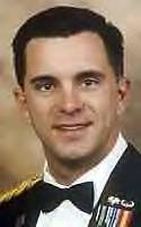 CAPT. JOHN R. TEAL – U.S. Army
Hometown / City: MECHANICSVILLE, VA HANOVER
Date of Death: Thursday, October 23, 2003
Conflict: Operation Iraqi Freedom (Iraq)
Branch: U.S. Army
Rank: Capt.
Unit: HEADQUARTERS AND HEADQUARTERS COMPANY, 2D BRIGADE (4ID), FORT HOOD, TX 76544
Birth: Apr. 17, 1972, USA
Death: Oct. 23, 2003
Diyala, Iraq
Capt. John R. Teal loved traveling, swimming, the Dave Matthews Band and Frank Sinatra. "He was the kind of guy that no one could say anything bad about," said Frank Boehling, who graduated with Teal from high school in Virginia and in 1994 from Virginia Military Institute. Teal, 31, who was based at Fort Hood, Texas, and worked as a medical officer with the 4th Infantry Division, was killed when a mine exploded outside Baqouba, Iraq. His mother, Emmie Teal, of Montpelier, Va., said her son spent his final days helping sick children and meeting with Iraqi citizens. Even with all his interests, "the military was his life," said his father, Joseph Teal.
Burial:
Arlington National Cemetery
Arlington
Arlington County
Virginia, USA
Plot: SECTION 60 SITE 8133